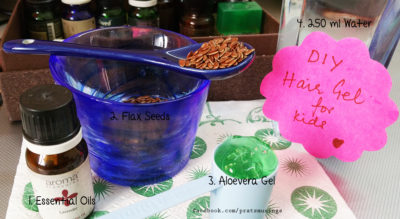 My boys are at an age when appearances do matter. Not even 7 and they refuse to step out of the house if they haven't gelled the hair or worn the matching tee with the jeans. When I was that age, all that mattered were the light brown Bata sandals, clothes that probably mismatched and hair piled up on the head. And yes, if we were invited to a birthday party, the only addition was a pair of socks that you wore with the sandals!
Anyway, not to digress, after months of being the mom who only said, "you are not using papa's hair gel, keep it back now" , I decided to make a DIY natural hair gel for them that they could use without me worrying about what they were applying. My search led me to loads of recipes and I picked one that said it was difficult, but I thought that it was super easy and non-fussy. And the best part, I had all the ingredients readily available at home.
This recipe needs just 4 ingredients and they are flax seeds, aloevera gel, essential oil and water. Flax seeds are used to get the gel like consistency that will form the base of the hair gel. Aloe vera is added to get the moisturising bit in the hair gel and the essential oils is for a fragrance. I have always preferred lavender for the kids and I stuck to lavender for this recipe as well. You could opt for wild orange essential oil too for this recipe. I would not recommend mixing essential oils in this recipe because you need not more than 3 drops of oil and mixing oils may not give you a very good fragrance.
DIY Natural Hair Gel
What you need:
1 cup of water (250 ml)
2 tablespoons of flax seeds
1/2 tsp of aloevera gel
2-3 drops of essential oil – I used lavender essential oil because of its soothing and calming properties.
I used just over 1 cup of water, 2 tbsp of flax seeds, a dollop of aloe vera gel and some lavender essential oil. Keep the water to boil in a shallow saucepan and add the flax seeds to it. Turn the flame to the lowest heat and keep stirring the mixture continuously. In roughly 5 – 7 minutes, the water will begin to thicken and you will get a gel like consistency. Strain this mixture through a fine cloth or a tea strainer. Press against the seeds to get as much gel as you can. Add the aloe vera gel and the essential oil while the gel is a bit warm and mix it well so that the aloe vera gel blends in completely with flax seed gel that you have made earlier.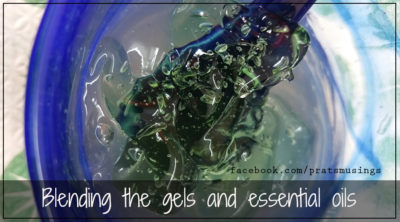 Store this DIY natural hair gel in an air tight container and keep it refrigerated. It stays for almost 15 days. You can make a new batch every fortnight depending on the usage. Do not keep it outside in room temperature. Now this hair gel does not hold the hair for a long time, the minute you step out in the winds, the hair is likely to flop back to its normal appearance. But what it assures is that it does not damage the hair, unlike the commercial options available in the market. Even when it dries out completely, it makes the hair feel soft and not rough and poky like a conventional hair gel.
I tried this DIY natural hair gel on my hair for a week before I started using it for the boys. Needless to say, I have two super thrilled boys who have their own natural hair gel. The right way to store this would be either a jar or a pump bottle. I prefer the latter because it makes the application less messy.
Follow Me On…
FACEBOOK | TWITTER | PINTEREST |elephant journal *All of my reviews are based on my own personal experiences with the brand/products. If it is a sponsored post, it is indicated. Most of the brands and products reviewed are what I have tried and tested and truly recommend! All Photographs are (C) Pratibha unless stated otherwise.*