I started using essential oils in diffusers at home and soon realised that there was more to using essential oils than just in diffusers. Here are my 5 different ways to use essential oils in your everyday life.
Just a word of caution here is that pick up essential oils that are listed as eco-certified, natural and organic. These will be free from chemicals and artificial fragrances that can cause allergies or have side effects.
5 different ways to use essential oils
Essential oils are actually a really natural substitute to most products. You can use it for various remedies at home; skin and hair care, natural cleaning agents, repellents, scrubs and more. So here I am listing the different ways to use essential oils at your home.
1. Sore Muscle Scrub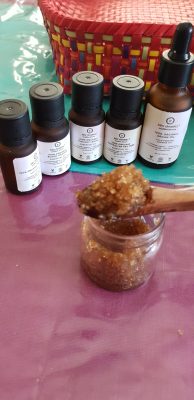 The sore muscle scrub is the perfect way to treat the pains and indulge in some spa like treatment in the comfort of your bathroom to be precise! There is no requirement of orange essential oil in the scrub, I have added it for the citrus and lingering fragrance that it leaves. It is a very summery fragrance that I love. You can add your favourite essential oil to the scrub too.
Ingredients for the scrub
All that you need to do is mix all the ingredients together and stir till they are completely blended. If you like a stronger fragrance, add a few more drops of the peppermint essential oil. Transfer this into an air tight glass jar.
TO USE
Take a generous portion of the scrub and massage slowly over the affected areas. This scrub should not be used on the face and other sensitive parts of your body. Let the scrub stay on for at least 3 – 5 minutes so that the oils soak in the skin. Wash off with warm water. If you find the fragrance a bit strong, use a mild body wash after the scrub. Pat dry.
*If you are buying the essential oils from Juicy Chemistry, please use the code PRATIBHA to get a discount. 
2. How to make Lotion Bars at Home
WHAT I USED
How to make
What I did was to combine all ingredients (except essential oils) in a steel bowl and place it as a double boiler over a saucepan with 2 – 3 inches of water in it. Use the lowest flame possible. It takes about 5 minutes to completely melt. I use a small  wooden spoon to stir it constantly. When it has melted completely, take it off the burner and add the essential oil. Since I was planning to make two varieties of the body lotion bar, I added 10 drops of the essential oil  of Peppermint, Lavender and Blood Orange. I poured the melted oil in the moulds and mixed it so that the EO's blend in with the oil. I let it sit for a while. The bars were completely  set in 15 minutes and I just popped them out of the mould and stored it in the fridge for an hour and this is how they look!
3. To wind down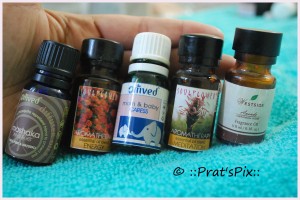 After long day of work, all I need is some calm! So I use the essential oils in a diffuser to let its fragrance waft in my living area. Oils I prefer to use are Lavender, Nidra by Omved and Frankincense. In fact any essential oil is  on my to-use list. Even if its to kick start the day I use a energizing  blend of Ylang Ylang and Frankincense to get my focus in place.
4. Make your own room fresheners
It's no secret essential oils smell good. And they are good at making rooms smell great too. So I make my own room fresheners when I get the time, instead of picking the chemical laden ones. Take a spray bottle and add distilled water to it and any essential oil of your choice, Ta-da! You have your own essential oil room spray. Some combinations you can use:
Distilled water with geranium and lavender to soothe the living areas.
Distilled water with citronella and lemongrass to keep the bugs and flies away.
Distilled water with sandalwood oil to calm the living spaces
Distilled water with lemon and orange to energize your living spaces.
5. To Breathe Free
Down with the cough and cold? Use essential oils in the diffuser to decongest. I would recommend Sushwasa by Omved. A few drops in the diffuser is all you need to clear the blocked passages and breathe free. It also comes as a mist that you can spray in the room and on your linens to breathe well while you sleep.
These are just a few of the ways I've used essential oils. There are many different ways to use essential oils and they have no side-effects unless you have an allergy to to them.  What started off as something as simple as using in a diffuser oil, the essential oil turned into versatile uses for my home in ways of wellness and much needed relaxation.So give them a try and share your favorite essential oil recipes below!