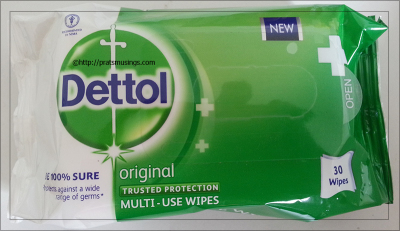 When you have kids , you need to have super clean surroundings! Hygiene plays an important role in keeping the kids healthy. And I don't mean just at home but  just about anywhere! As a mom to twin boys I need to keep a tab on everything that they do! Which means I am constantly monitoring how clean they are even if the surroundings are not really up to the mark.
Dettol Multi Use Wipes
Dettol has recently launched Dettol multi use wipes that is a boon to cleanliness.  These multi use wipes can be used to clean table tops, kitchen counters, disinfect the door knobs or any surfaces that you need to santize. The Dettol multi use wipes can also be used to wipe your hands and face as well.
As a kid, Dettol was a permanent fixture in the first-aid box, it was disinfectant used to clean many cuts and wounds and needless to say when I saw the Dettol multi use wipes, I knew that I had to try these out. I keep one pack in the car, one in my purse and one at home. I use it to clean and disinfect the kitchen counters, dining and study tables as well as other surfaces at home. You can also use it to wipe the bathroom fixtures to clean them. All I need is one wipe to clean the entire kitchen platform and the cooking gas at one go. I am ensuring a clean and germ free cooking space for the family.
Carrying it in my purse allows me to clean the hands of the boys at any given time and it is also handy to clean the surfaces just in case you are at a place that is not very clean. If I am in the need of quick freshening up, all I need to do is use a wipe to get rid of the dirt and grime off the face and hands. Dettol multi use wipes are alcohol free, gentle on the skin and has a mild fragrance that lingers for a short while. If you are looking for an all purpose wipe that serves multiple needs of your family – right from protecting them from germs to cleaning home surfaces, then invest in a packet of Dettol multi use wipes.You won't regret it! Being pH neutral, the wipes do not affect your skin's natural protection, and the emollients present in the wipes keep your skin moisturized.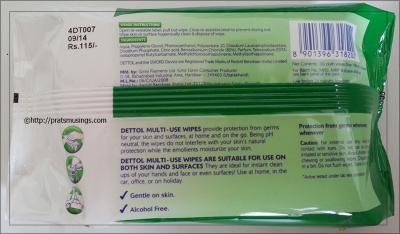 About Dettol Multi-Use Wipes (from the website)
These are ideal for instant clean-ups of your hands and face or even surfaces.
• Ideal for instant clean-ups of hands, face or even surfaces
• Protects against a wide range of germs
• Gentle on skin
• Leaves a fresh fragrance
• Alcohol free
• Use at home, in the car, office, or on holiday
If you are picky about having a clean and germ-free surrounding, you should opt for Dettol Multi Use Wipes that is easily available in packs of 10's and 30's. You can buy the Dettol Multi Use Wipes on Flipkart. Keep a pack handy to keep the germs at bay!
Follow Me On…
FACEBOOK | TWITTER | PINTEREST |elephant journal
*All of my reviews are based on my own personal experiences with the brand/products. If it is a sponsored post, it is indicated. Most of the brands and products reviewed are what I have tried and tested and truly recommend! All Photographs are (C) Pratibha unless stated otherwise.*