I don't know why it took me so long to write this post on Daughter Earth Serum Absolut review! But they say better late than never! I am on the 3rd bottle of the Daughter Earth Absolut Serum and it is one of most used skin care products in the AM/PM routine. This is one of the best products I have invested in my skin care routine.
Daughter Earth Serum Absolut Review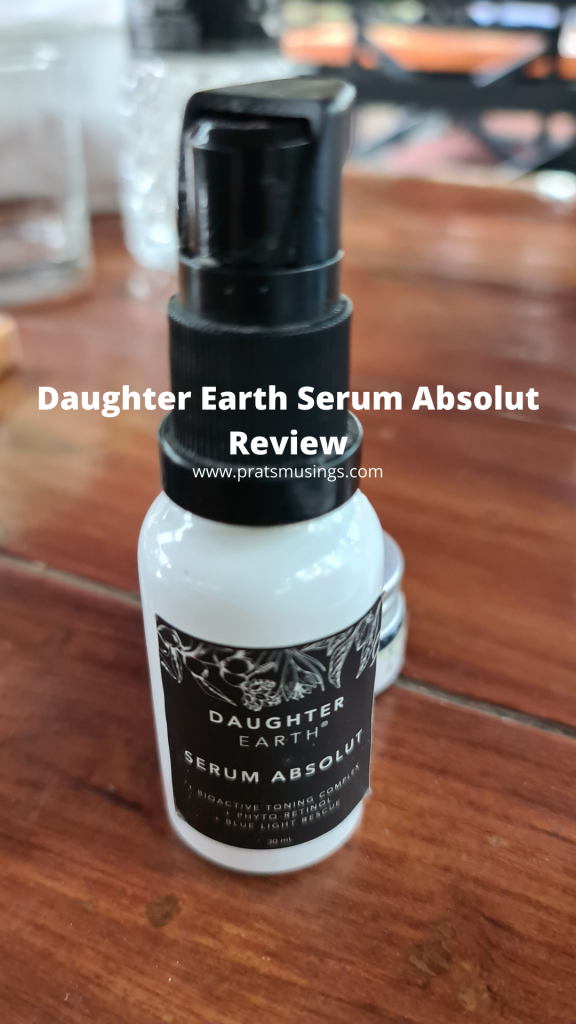 As someone who is perpetually exposed to the rays from the laptop, I was looking for a solution that protected my skin from the exposure. My work entails me to be working close to 14 hours a day sometimes, that leaves a zero breather to have quality skin care. I make it a point to use it in my AM routine to eliminate any digital pollution I am exposed to. I use it as a PM routine as well. But just before I hit the sack, I do indulge in one more round of cleansing and use the Eternal Youth Rejuvenating Serum that has been a part of my skin care routine ever since it was launched! That does warrant another post, honestly!
What are the ingredients in Daughter Earth Absolut Serum
46. Yep! 46 potent chemical-free ingredients are a part of the Daughter Earth Absolut Serum that nourishes your skin with the goodness it needs. It contains 1% of purest bakuchiol; which is similar to 1% retinol which is pretty intense and high. It is common to experience a slight tingling and warmth sensation that might occur because of the organic certified capsanthin esters (red peppers) that are particularly good for blue light rescue.
Bakuchiol is simply one active – a potent one – but Serum Absolut contains several other active ingredients added after careful examination of the botanical ingredients for synergy. Includes skin stress relieving adaptogen, skin Varnya enhancing herbs as per Charaka samhita.
Texture of Daughter Earth Absolut Serum
It's a really mild and fast-absorbing product. After you've cleansed your skin (preferably team it with one of their cleansers), take a pump of the serum and dot on the neck and face. Massage in an upward direction for less than 30 seconds and the product is absorbed. If you have very dry skin you may need more than one pump of the serum and also apply it more than once a day. But if you are looking at long term results for skin that looks great, I would suggest that you make this a part of your skin care routine.
How's my experience been using the Daughter Earth Absolut Serum?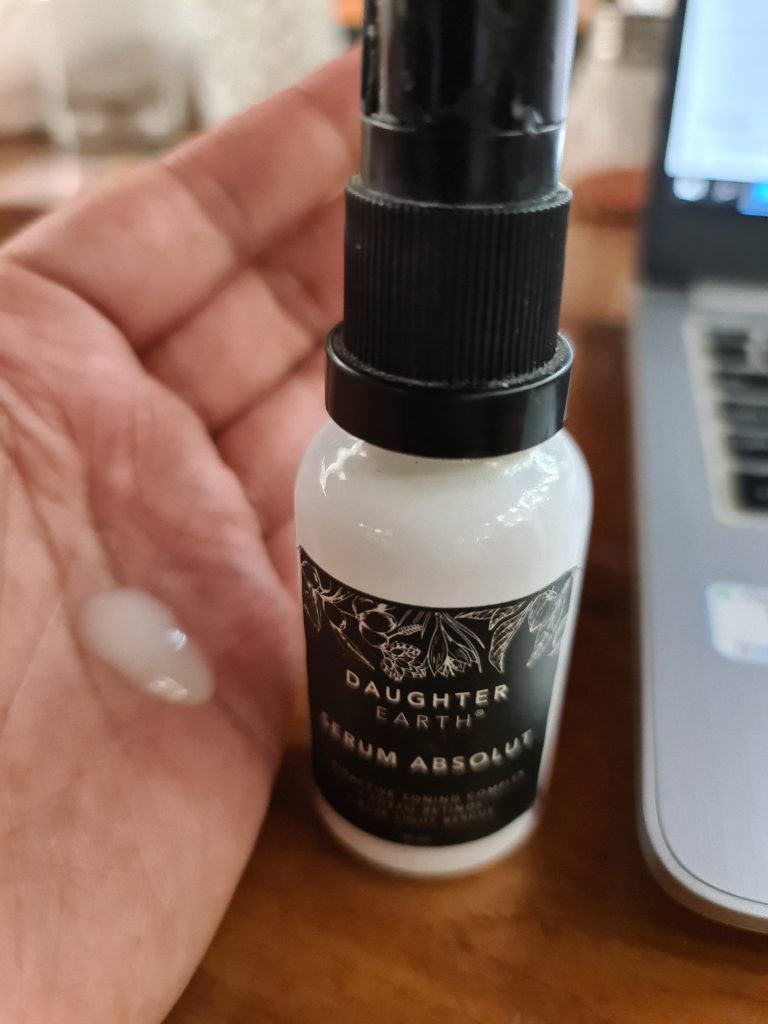 Honestly, my skin and hair care routine is minimalistic. There are less than 6 brands that I trust to use in my skin and hair care routine. And Daughter Earth certainly makes it to the list. As someone who is super conscious about what I apply on my skin, I choose my products with utmost care and caution. Like with every skin care product, do not expect changes overnight. If you do, chances are that they are heavily laden with chemicals that make your skin woes vanish overnight.
It's taken me 3 bottles of Daughter Earth's Absolut Serum and two years of patience to reduce the hyperpigmentation and even my skin tone. And on days that I am heavily stressed out these skin woes do show up in all their glory! But that is something that is a genetic condition I have to live with.
The trick is to stick to a skin care regime that actually suits your skin. And you follow it for the rest of your life! No kidding! Till date I have stayed away from chemical peels that dermatologists recommended to improve my skin condition.
I have always and will always rely on chemical-free, vegan, natural products that work at their own pace to make my skin feel good and better. If you have been on the fence if you should invest in this product, I will say do opt for it. Not only is it a unisex product, but it also suits all skin types and is safe to use by pregnant and lactating women.
About the product
A powerful facial treatment serum with Bakuchiol- a plant-based retinol alternative. And blue-light rescue actives with clinically proven ingredients at prescription strength.
This blue light rescue serum combats the signs of ageing, pigmentation, irritancy, dryness & improves the look of facial contour and elasticity, with 40+ adaptive & high-performance botanicals.
15 sources of skin-brightening botanicals,
7 adaptogenic herbs that fight skin stressors,
18 sources of soothing and healing herbs,
17 sources that help ease acne and allergic skin,
9 sources with astringent properties and
39 sources of antioxidants to fight blue light damage caused by digital devices (smartphones, laptops etc.)
Non-comedogenic. Formulated for all skin types. Vegan and cruelty-free. Free of fragrance, parabens, silicone, phthalates, mineral oil, sulfates, and colorants.
You can buy the Daughter Earth Absolut Serum here. Use the code Pratibha15off to get a discount.