One regime that I never tend to miss is the oiling my hair. I indulge in a professional head massage at least thrice a month and the rest of the times I just apply the oil on my own. With the winter just setting in and the weather playing truant, I have been facing loads of hair woes. I've been losing hair rapidly and I needed to take care of it. I was looking for home remedies when I came across a really simple treatment in a blog I follow. I have worked it from the past few weeks and I have made my own additions to the therapy.
Coconut Oil Moisture Therapy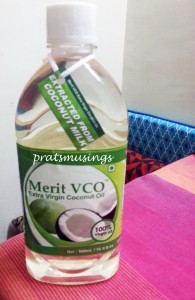 I have used coconut oil earlier for skin and hair care recipes, so I wasn't surprised to see a coconut oil moisture therapy that guaranteed to leave you with softer tresses. All that you need for this therapy is about  two tablespoons of virgin coconut oil. I have shoulder length hair and this quantity is adequate. Now, depending on your hair issues, you can add essential oils to it. I add one drop of lemon essential oil to keep the dandruff and itchy scalp issues at bay and one or two drops of lavender essential oil that helps me calm down. 

If the coconut oil has thickened with the winter setting in, use it as it is, the oil will melt to the touch. Flip your head and start from the nape ensuring that you cover every dry patch on the scalp and massage the oil in the hair really well. Your hair needs to be soaked in oil. Once done, tie up your hair and place a shower cap to retain the moisture. I keep the shower cap on for at least one hour.
Wash off your hair with your usual shampoo and follow up with the conditioner. Your hair will be pampered better if you use a SLS and paraben free shampoo and conditioner. You may need to shampoo your hair more than once to get the excess oil out of the hair. Wash your hair with tepid water and as a final rinse use a burst of cold water. Gently pat your hair dry and do not blow dry your hair.
How does the therapy help?
This therapy helps you to take care of your tresses and save them from the damage they are exposed to on a daily basis. You can repeat the coconut oil moisture therapy as often as you want. If your hair is dull and damaged, you may want to do this therapy every time you wash your hair. The results will begin to show in as less than 3 months if you follow this therapy at least once a week.
Looking for the easy way out? I know some days I am really pressed for time and getting this therapy seems to be the last thing on my mind. If you are pressed for time and still need a pre-wash therapy, you can try the Pre-Shampoo Conditoner by Rustic Art that I have reviewed  late last year and I still use this as a backup for my hair. You can buy the Rustic Art Pre-Shampoo Deep Conditioner
 from Amazon.
I love the version of this coconut oil moisture treatment from another blog that I follow, How Does She. I have made my own additions to suit my hair type, the hair issues I face and the climate.
Follow Me On…
FACEBOOK | TWITTER | PINTEREST |elephant journal
*All of my reviews are based on my own personal experiences with the brand/products. If it is a sponsored post, it is indicated. Most of the brands and products reviewed are what I have tried and tested and truly recommend! All Photographs are (C) Pratibha unless stated otherwise.*