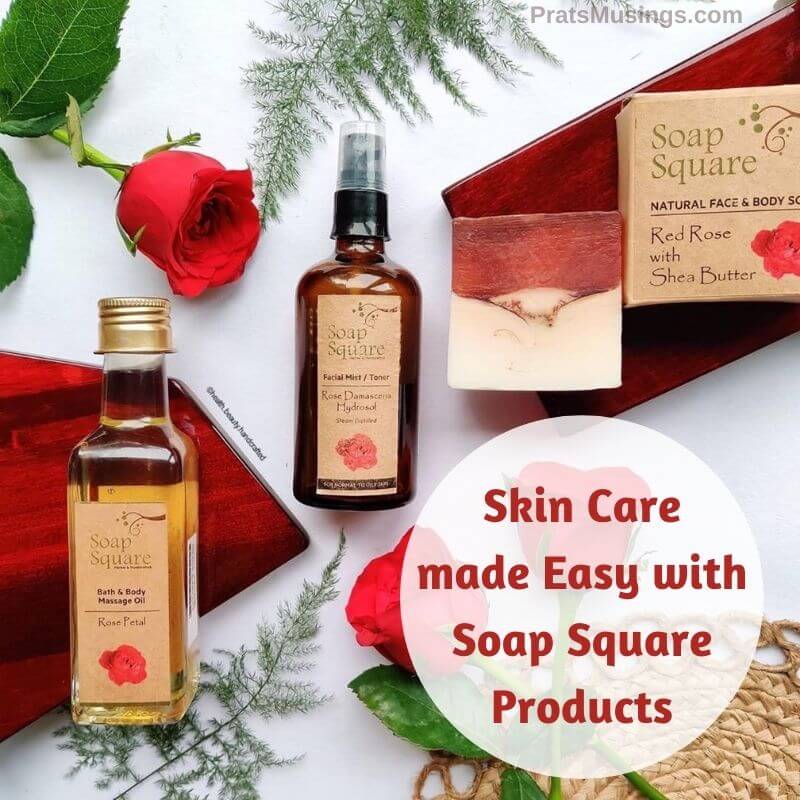 We love giving out handmade gifts, whatever the occasion maybe. There are so many options you can find, from accessories to edibles to even soap! Sometimes, it's the charm of a handmade gift; sometimes it's because you can't find exactly what you need in a store. This is exactly where the journey of Soap Square, Natural & Ecofriendly skincare products took its birth.
That's how one 20 year old business student and her mother decided in the December of 2014 that they wanted to gift their friends chemical-free, natural soaps for New Year's. However, as much as they tried, they just couldn't find what they need. Everything they came across had long lists of chemical ingredients, many of which were toxic.
The story of Soap Square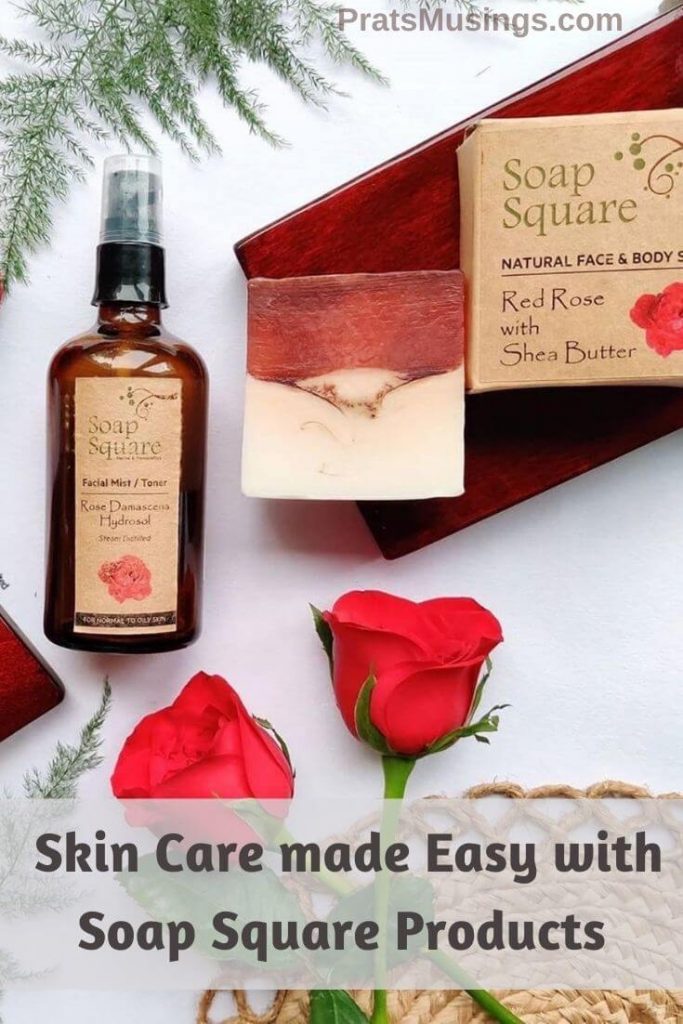 Seeing that they didn't want to give their friends toxic chemicals as a New Year's present, the duo decided to make their own soaps in their home kitchen. The result was something even they didn't expect – their friends loved the handmade soaps! In fact, there was a huge demand for more, and that is how Soap Square was born.
The people behind Soap Square are Mahima and her mother, who continued making soaps from their home, till they realized that the demand was so huge that they had to go big. Mahima quit her corporate job and went into soap making full time. But it's not just soaps; today, Soap Square has over 150 products that cover all areas of personal care.
The manufacturing process
Every product made by Soap Square is derived from 100% natural ingredients. They maintain their policy of not including any toxic chemicals. Soap Square attempts to reduce their impact on the environment by using biodegradable packaging. They also use smart manufacturing techniques to reduce wastage, like opting for solid bars instead of liquids.
Soap Square, Natural & Ecofriendly skincare
All this means that your skin care can now be completely guilt-free, more effective and a spa-like experience as well. Soap Square products are very specifically formulated. You'll find something for whatever skin issue you have.  In fact, you can set up your entire skin care routine with Soap Square! Here is a look at the different products you can include in your daily skin care routine. And you can make it chemical free and 100% natural.
Cleansing
The first step in any skin care routine; recommended as an AM/PM routine. It helps wash off any accumulated oils, pollutants and impurities from the skin, and reduces the risk for skin infections. 
If you have been used to traditional cleansers in liquid, cream or gel forms, you should give Soap Square's powder cleansers a try. These are to be mixed with water or aloe vera gel before applying. And they have cleansers for all skin types. The French Pink Clay & Lavender Face Cleanser is perfect for dry skin. While the Activated Charcoal & Rosemary Face Cleanser works well for oily, acne-prone skin. Got sensitive skin? The French Green Clay, Aloe Vera & Ylang Ylang Face Cleanser is the ideal pick for you.
Besides the powder format, Soap Square also has cleansers in the form of a unique facial soap bar. The bars help cut down on packaging, which not only saves costs, but is also easier on the environment. They have a bar for every skin type and skin issue – you name it and they have it! Soap Square, Natural & Ecofriendly skincare products boast not just of cleansers in powder form, but they actually also have soaps that double up as facial bars!
Soap Square Intense Cleansing
The French Lavender, Kashmiri Saffron, Red Rose, variants come combined with Shea Butter for effective cleansing combined with intense moisturization. On the other hand, the Lemon Peel, Oudh and Sandalwood & Turmeric variants come combined with Aloe Vera Butter, which is soothing and perfect for summers. The Oats & Vanilla variant features Cocoa Butter instead, which not just cleanses, but smells great too.
Natural clays are used in skin care for centuries now. If you're into clay cleansers, Soap Square has one for you! The Sea Salt & Moroccan Rhassoul Clay absorbs impurities and gives you that spa-like feeling. The French Red Clay & Pomegranate is packed with anti-oxidants. And of course, we can't ignore the popular Multani Mitti & Cucumber soap that has been a favorite among Indian women.
Soap Square also has an entire range based on fruits. Melon Magic, Green Apple & Chamomile Flowers smell as good as they sound! And they're also packed with the individual benefits of their fruity ingredients!
They also have an Activated Charcoal range, which comes in Calamine and Tea Tree Oil variants. One of the striking things about Soap Squares face soaps is their choice of unique ingredients. They use Temple Mogra, Vetiver & Jojoba Oil as well as Calendula and Ylang Ylang.
Besides these, Soap Square, Natural & Ecofriendly skincare also has traditional, popular options for soap bars. The Desiccated Coconut w/ Coconut Oil, Neem & Tea Tree Oil, Honey Oats & Almond Oil and Fresh Brew Coffee. If you'd like to dip your toes by trying out something that's a little more familiar, these are ideal for you.
Toning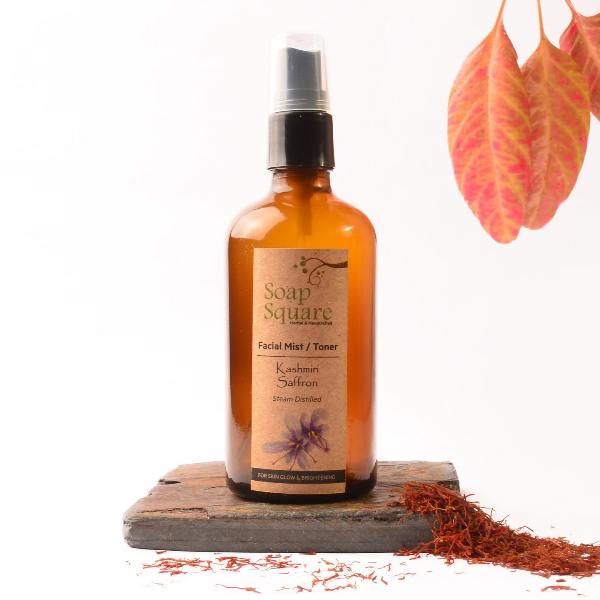 After cleansing, the next step in the CTM routine is toning. While cleansing gets rid of the impurities and excess oil, a toner helps close pores and tighten skin. It closes the door for any further impurities or pathogens to enter. Choosing the right toner for your skin type can go a long way in ensuring your skin stays perky and healthy.
Soap Square has a range of toners to suit every skin type and for every skin problem you have. The best part is that these also work as face mists, so you can keep them in your bag and spray them on whenever you feel the need for a refresh.
If you are prone to breakouts and have oily skin, the Tea Tree Facial Toner is perfect for you! It works as an excellent astringent. Made from distilled fresh rose petals, the Rose Damascena Facial Toner is great if you're looking for anti ageing solutions, since it boosts collagen production.
The French Lavender Facial Toner and the Aloe Vera Facial Toner are both soothing and anti-inflammatory. These are ideal for sensitive skin or skin that needs healing. The Kashmiri Saffron Facial Toner is great for evening out the complexion and brightening skin. It leaves a natural and healthy glow. I have been using the French Lavender Facial Toner as a spritz to add an extra boost of hydration!
MUST READ: Best Facial Mists in India
Moisturizing
The final step in any basic skin care routine is moisturizing. It helps seal in all the benefits of the cleanser and toner. By providing a stable base for any makeup, it ensures your skin stays hydrated and protected. It also maintains the balance of the skin and prevents premature ageing.
When you follow a CTM routine, moisturize at least twice a day. The moisturizer used for day time and night time have different properties, and Soap Square has creams for both.
For day use, the Argan & Lavender Face Cream works well for normal to dry skin. The Rosemary & Jojoba Face Cream is ideal for normal to oily skin. Apply the Saffron & Rosehip Night Cream at night after cleansing. It is thicker and offers intense hydration while also repairing skin while you sleep. I have been using the Argan and Lavender Face Cream, and especially in winters it was a boon to dull and dry skin and kept my skin hydrated for hours together!
In addition to these, Soap Square also offers a Hydrating Aloe Vera Gel. It can be used as a moisturizer or in combination with other products. For instance, you can add it to the cleanser powder, or to your regular face pack instead of water. It's also a good option to heal sun damage like sun burns.
Exfoliating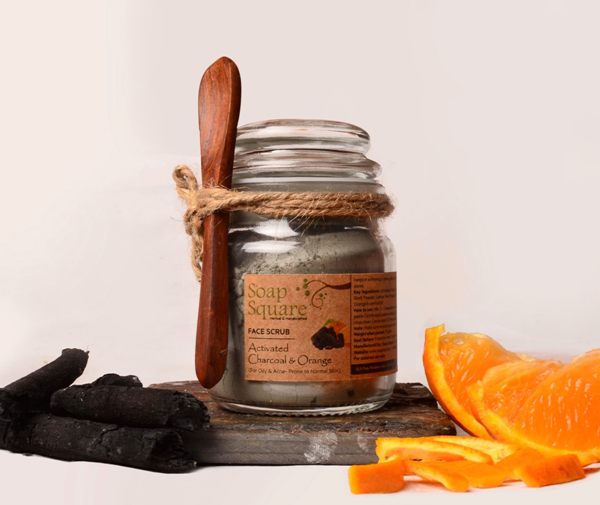 Exfoliating regularly increases the effectiveness of a CTM routine while also providing you with added benefits. Physical exfoliation involves the use of a scrub, that gets rid of dead skin cells leaving skin looking brighter.
The important thing to consider when choosing a scrub is to ensure that it is made from natural materials. A scrub needs to be gentle and not too abrasive, or it can break skin. Soap Square, Natural & Ecofriendly skincare scrubs has a range of gentle face scrubs formulated for specific purposes. Made with 100% natural ingredients, you can use these once or twice a week, depending upon your requirements.
The Rose & French Pink Clay Face Scrub is perfect for normal to dry skin. It helps to unclog pores and make skin more receptive to any topical skin treatments or creams. The Activated Charcoal & Orange Face Scrub gives the skin a good detox. It helps getting rid of acne scars and brightening skin in the process. If you have sensitive skin, the soothing and Vitamin C-laden French Lavender & Lemon Face Scrub is your best bet.
Specialized Treatments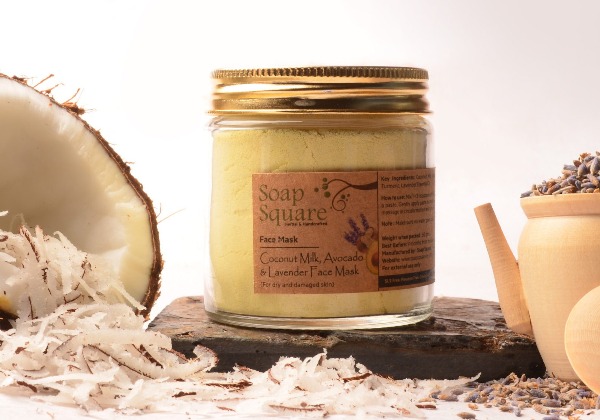 Soap Square, Natural & Ecofriendly skincare has a range of specialized treatments that caters to skin exposed to environmental pollutants. And your skin does need the TLC once in a while. For a spa-like pampering experience, a face pack is a great option. As it sits on the face for a while, it gives the opportunity for the ingredients to be properly absorbed, and helps repair damaged skin.
Soap Square, Natural & Ecofriendly skincare has an array of face masks that are suitable for all skin types. Hibiscus, Rosehip & Sweet Orange Face Mask ; known for its moisturization benefits is ideal for dry skin. Dry skin has another option too – the Coconut milk, Avocado & Lavender Face Mask which is soothing and contains healthy fats. It is a good option for summer when the skin is prone to sunburn.
For oily skin, the Sandalwood & Argan Face Mask helps control excess sebum production and prevents the onset of acne. Soap Square also has everyone's traditional favorite face pack – Multani Mitti. You can combine it with other ingredients like aloe vera gel for a truly nourishing experience.
Oil Treatments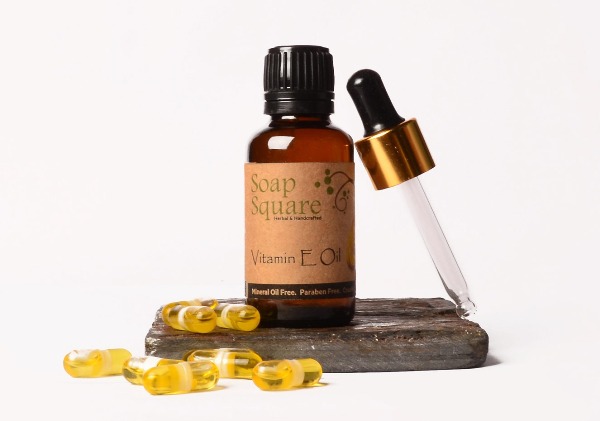 Creams are what most people resort to when they need to nourish the skin or heal a skin problem. However, creams are relatively new, and traditionally people have used oils to hydrate, repair and brighten skin. The current generation has woken up to the benefits of face oils, and there are many oil formulations available today.
Soap Square assures us that the face oils they are are 100% natural and pure. This is important since oils are quite potent and we need to be careful about using them. They have a whole range of cold pressed oils that satisfy all your requirements.
The Cold- Pressed Neem Oil is perfect for those struggling with acne or other skin issues like rosacea, eczema, psoriasis, and rashes. The Cold-Pressed Rosehip Oil is to brighten skin and reduce pigmentation.
The Cold-Pressed Avocado Oil and Apricot Oil provides anti ageing benefits. It helps to boost collagen production and reducing the appearance of fine lines. The cold-pressed jojoba oil and almond oil provides sun protection along with being soothing on irritated skin.
If you're on the lookout for facial oils that can boost overall skin health with a wide range of benefits, you can choose the Cold-Pressed Argan Oil.
Lip and Eye Care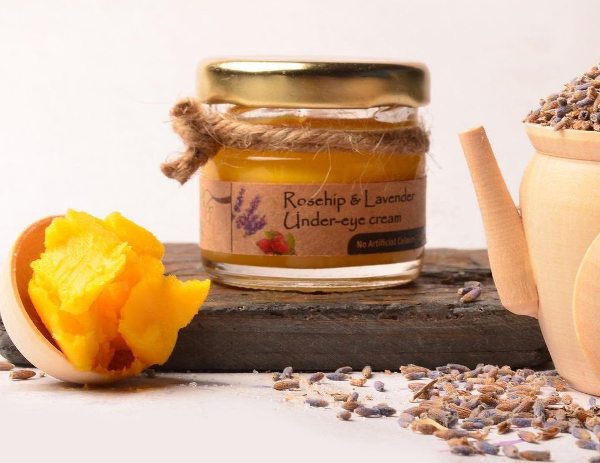 Skin care isn't limited to your cheeks and forehead. It also includes the eyes and lips! Lip scrubs are great to exfoliate the lips. Soap Square's range of lip scrubs are specially formulated for the thin skin of the lips. Their Juicy Strawberries Lip Scrub and the French Vanilla Lip Scrub are great to make lips softer and nourished. The Dark Chocolate Lip Scrub works to remove pigmentation and make lips brighter.
Once you've done scrubbing your lips, follow up with a moisturizing agent, like a lip butter. Soap Square's Juicy Strawberries Lip Butter and French Vanilla Lip Butter contain Shea Butter. An ingredient known for its hydrating and softening properties. These are particularly useful during winters when the lips are prone to chapping.
The under eye area is a part of the face that requires some special care. The skin here is much thinner and the veins underneath become more visible. Puffy eyes and under eye circles also give a tired appearance, and can be due to lifestyle issues or genetics. The Rosehip & Lavender Under- eye Cream contains soothing lavender and rosehip oil. It helps to firms the skin under the eyes and reduces dark circles. Oh, and it works as a wonderful lip balm too!
Initiatives by Soap Square
Soap Square is affiliated with MSME and Khadi India. It believes in being an equal opportunity employer – half their employees are women. They train rural women in making soaps. The women gain new skills to help them get employment, and it increases sanitation awareness in rural areas. Soap Square also provides skill training for the visually impaired at the Blind Relief Association in New Delhi.
While all the products from Soap Square are guaranteed to be safe. It is always best to do a patch test before trying out any new product. Apply a small amount of the product behind the ear and wait for 24 hours. If there is no reaction, you can go ahead and use the product confidently.
I would like to thank Soap square for the products provided. However, this review is unbiased and completely based on my experience after using the products.