Summer is here! The scorching sun is killing and it is time to stash away those cream soaps and body butters and opt for something lighter! I prefer citrus and minty fragrances in the summer because I find it very refreshing and invigorating. I searched around and have come with some absolutely easy to make scrubs that will be ready in a jiffy!
Why do I love scrubs?
Simple, because it has loads of benefits! The most obvious being that it acts as a natural cleanser and helps exfoliate the dead skin. The natural abrasive ingredients in a scrubs slough away old skin, grime and oil from the outer skin layers. This also helps to unclog the pores giving way to healthier, cleaner, younger and fresher looking skin.
Of course, scrubs with a hint of essential oils helps me make my own aroma scrubs. I have a bottle of a peppermint oil tucked away, so yes, there is going to a lot of minty fragrances in my scrubs this summer.
This post is dedicated to body scrubs and polishes. I will follow up with face and feet scrubs soon! Please note that none of these scrubs can be used on the face. Let me know if you try any of these.

Simple Rosemary Citrus Body Polish
What you need
2 tbsp crushed rosemary
1/4 cup natural sea salt
1/4 cup oil (olive, coconut, etc.)
1 tsp fresh squeezed lemon juice
1 tbsp honey
To make: Mix everything together and store in an airtight container in a fridge.  Mix together and enjoy!
I love rosemary in my pastas and baked potatoes, but when I tried it in the scrub I was not very disappointed.  I accidentally dropped extra EO, so the fragrance was more of peppermint than of rosemary.I made slight tweaks to this scrub, I added a few drops of the peppermint EO and replaced the salt with brown sugar.
Please note: Works excellent on rough knees and elbows.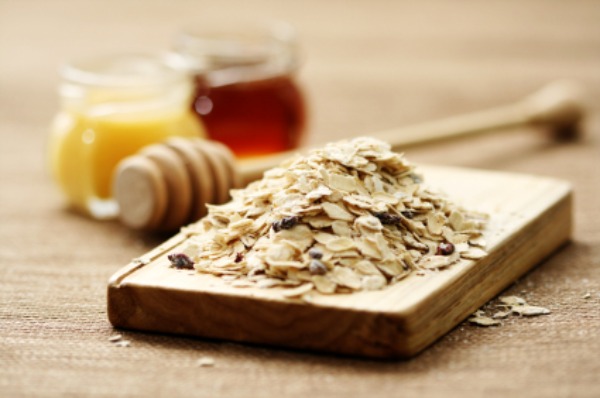 The Honey, Oatmeal and Sugar Scrub
What you need
3 tablespoons brown sugar
2 tablespoons (30ml) honey and olive oil each
2 tablespoons oat bran
I also add a few drops of essential oils
To make: Mix all the ingredients in a bowl and store in a dry airtight container. To use, apply to damp skin and gently exfoliate. Wash off with warm water.  If you have dry skin, you may need to moisturise.
Body Sugar Scrub
The absolutely basic scrub. You will always have these ingredients at home and it takes less than a minute to make it. What I do is that if I am making larger quantities, then I use a blender to mix the ingredients. I use the blender on high for about 2 minutes.
What you need
2 tsp honey
2 tsp sugar
1/2 tsp olive oil
To make: Mix honey with sugar and olive oil. The quantity I have mentioned is for one use. Rub lightly in a circular motion on your body to exfoliate.
Almond and Honey Scrub
What you need
1/4th cup of ground almond – don't make this into a paste.
1/4th cup of brown sugar
2 tablespoons of honey
3 tablespoons of olive oil
Optional: A few drop of EO ( any fragrance you like! )
To make: Mix all these ingredients in a dry bowl, use a blender on high for about 30 seconds if you want to mix it well. Store in a dry and air-tight container. Wash your hands with this before you sleep and you will wake up to absolutely soft hands.
Next on my agenda is to make a a scrub with coffee beans! 
Images 2, 3 and 4 are sourced from the net