A blemish is any type of mark, spot, discoloration, or flaw that appears on the skin. Here are the common symptoms for face blemishes to look for – uneven skin tone, skin discoloration, itching or skin irritation. Blemished appear as brown or reddish patches on the skin that can cause the skin to get inflamed. In severe cases, blemishes can also dry out the skin. These are a lot of best natural products for blemishes in India. And in this post, I'll be sharing a mix of creams, serums, oils, face washes and more that can help to reduce the intensity of blemishes.
How to get rid of blemishes?
One of the most important things to do to get rid of blemishes is to follow proper day-to-day skin care routine. Ensure that you cleanse, tone and moisturize your skin twice everyday, in the morning and at night. What is also important is to follow a skin care regime according to your skin type to reduce blemishes. You may be using the best natural products for blemishes, but if you do not follow a routine properly, it is not going tp work for you.
Everyday tips to prevent blemishes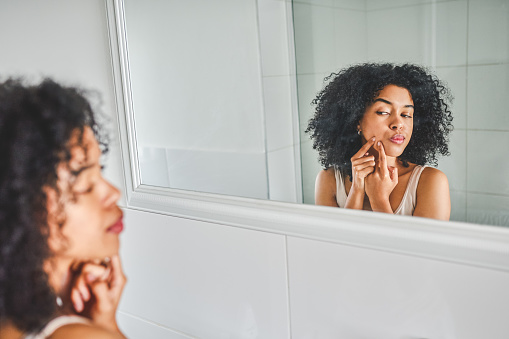 Yes, you have chosen the best natural products for blemishes, but what next? Is it advisable to use just those to get your skin fixed? Well, apart from using the natural products for blemishes, here are some tips for day-to-day skin care to prevent blemishes.
Opt for gentle and chemical-free products for your skin. Since your skin absorbs close to 60% of what you apply, it is the best choice to opt for chemical free products. Products with natural and organic ingredients will not strip your skin off its natural oils and thus keep it moisturized naturally. Using natural products for blemishes is always a good option.
Use a gentle cleanser to wash your face and clean with normal to tepid water, Pat your skin completely dry before applying daily care cosmetics to your skin in the morning and at night.
Opt for a gentle scrub to exfoliate your skin that can help to buff away dead skin. A scrub should be used not more than twice a week. Using it often can damage your skin.
Opt for a face-mask. Ingredients like turmeric, activated charcoal, honey, aloe vera etc will help to fade the blemishes. Some face masks that I can recommend are from Mamaearth, the pure aloe vera mask from Juicy Chemistry, the Nagarmotha skin mask from Omved Therapies and the Krya face masks are some brilliant options.
Peel-off face masks are considered to be the best ones for blemished skin. A peel-off mask will also add that extra glow to your skin.I have shared some DIY remedies as well in this post.
Drink lots of water to keep your skin hydrated. Well hydrated skin gets far less blemishes.
Eat a balanced diet: Have lots of fruits and vegetables to get their anti-oxidant power. Antioxidants found in dark fruits and vegetables combat free radicals effectively to help you get rid of blemishes and other skin problems.
Use a natural sunscreen: Whether you are stepping out or even at home. Using a mild sunscreen all around the year will help to keep your skin nourished.
Use lemon juice: Lemon juice is known for its natural bleaching properties. It can dramatically reduce your dark spots and blemishes due to hyper pigmentation. Citric acid present in lemon juice also exfoliates your skin to help get rid of oil build-up. This prevents acne, another major reason for blemishes.
Simple DIY home remedies to prevent blemishes
I have always resorted to DIY home remedies to prevent blemishes before I moved in to buying specific products. The good thing about a DIY recipe is that you know what goes in it and you can do your own research to select what ingredients work for you.
Apple Cider Vinegar Face Mist For Blemishes
To make the mist
1 part apple cider vinegar
8 parts water (use filtered water)
A few drops of tea tree essential oil (this helps in oil control, omit if you have dry skin)
A few drops of lavender essential oil (this helps to soothe and calm the skin)
Spray bottle
What You Have To Do
Make a mix of the vinegar and water.
Add the essential oils.
Store the solution in the spray bottle and shake well.
Spritz your face with this and let it dry naturally.
Aloe Vera Gel Massage
What You Have To Do
Take a scoop of aloe vera gel. I recommend using the aloe vera gels from Mamaearth, Daughter Earth or Soap Square. I have used these aloe gels and would totally recommend it.
Massage the aloe vera gel for 3- 5 minutes in upward strokes from the neck to the forehead.
Leave it on for 10 – 15 minutes.
Wipe off with damp towel soaked in warm water.
Honey For Blemishes
What You Have To Do
Apply a layer of honey on the blemishes and keep it on for about 15 minutes.
Wash it off with normal water.
Best natural products for blemishes in India
Of late, I really have been pressed for time and resorting to home remedies was time consuming. So I opted for the next best thing; buying natural products for blemishes. The good news is that there are quite a few products that can help to reduce the intensity of blemishes when used regularly.
Whether you use it to cleanse your face, a spot treatment or a leave -in moisturizer, these products help to control your blemishes. With regular usage, you will see the blemishes fade away. Depending on the intensity of the blemishes and how long they have been on your skin, you will get varied results from these products. You can also opt for natural and chemical-free products to reduce blemishes. I am listing some natural and organic products to reduce blemishes.
Eternal Youth Rejuvenating Serum
This dermatologically tested, 100% active, preservative-free, multi-correctional serum oil is a skincare game-changer. This facial oil is rich in skin-loving lipids, antioxidants, flavonoids and nutrients (Vitamins E, C and B), helps skin microcirculation and delivers nutrients to the deeper layers for a rejuvenated and radiant skin.
Head over to the Daughter Earth website to buy this brilliant serum. You can use the code pratibha15off to get a flat 15% off on anything you buy at their site.
Juicy Chemistry Frankincense and Hemp Facial Oil
This highly effective formula is a spot-fighting superhero. Our facial oil is loaded with acne-fighting and skin-healing ingredients like Australian Sandalwood, Tea Tree, Neem and Frankincense. Hemp seed oil helps to regulate sebum production because of its astringent properties. This potent elixir penetrates deep into the skin, targets acne infection at its root and promotes skin rejuvenation. Sacha Inchi minimizes acne-scars and doesn't strip moisture from the skin.
What you can also do is explore the Juicy Chemistry "Shop by Concern" category to pick up products that best suit your skin type. You can head over to Juicy Chemistry website and use the code PRATIBHA for some extra discount!
To use: After you have cleansed your face with any of the Juicy Chemistry face-washes, hydrate your skin with their toners. Let your skin dry completely. Take 2 drops and apply directly to the face. Massage gently paying special attention to troubled spots. Use every night before bed and leave overnight.
Clear Face Wash for Deep Cleansing
Kick start your day with this healing face-wash. Deep-cleanse and purify your complexion with this antioxidant-rich face wash enriched with Charcoal to de-congest and detox oily, blemish-prone skin. Activated Charcoal, wheat proteins, healing extracts and plant derived cleansers provide an antibacterial and antiseptic tonic to remove built-up oil and impurities, promote clear skin and prevent breakouts, without over-drying skin.
Bye Bye Blemishes by Mamaearth
Mamaearth Bye Bye Blemishes Face Cream is an effective cream enriched with Mulberry Extract, Daisy Flower Extract, and Vitamin C. Its unique and natural formulation prevents melanin synthesis and gives you soft and glowing skin. It reduces pigmentation by restricting melanin deposits that appear as dark spots, patches, and hyper-pigmentation, thereby offering an even skin tone. Priced at INR 425, you can buy this here.
To use: Apply in circular motion after you have cleansed your face and wiped it completely dry. Use it as a night fix so that your skin gets maximum hydration and benefits as you sleep.
Suganda Spot-Treatment Oil
A concentrated blend of Tea Tree and Lavender essential oils that diminishes the appearance of pimples, while Hemp & Blackseed oils keep the top layer of skin healthy. Unlike most drying pimple solutions, this serum does not strip the skin of its oil, and does not leave pimples flaky while healing. Used often, our natural oil will act on blemishes even before they come to the surface fully, often preventing them from surfacing at all. Suganda Spot Treatment Oil has a very pleasant, lemony scent making it a pleasure to use. I have added this product to the list because I've read rave reviews. I haven't tried this product.
To use : As Spot Treatment – Apply one drop to blemishes 3-4 times a day.
The Tribe Concepts Brightening Cleanser
Brightening Daily Cleanser is made with 12 organic tribal forest sourced ingredients that are amazing for skin care. It helps in skin brightening, getting a lighter and even tone, for spot reduction, tan removal, blackhead removal and imparts a young, vivacious and glowing skin. You can start seeing the difference right from the very first use itself. It can be used daily as a regular face wash or a mild scrub or a face mask. When used continuously for 21 days, you get to experience your own flawless skin.
Looks interesting! I may pick this up when its in stock with the steel tin! I've added this product to the list because I have read rave reviews. I haven't tried this product. You can buy this product here.
Soap Square Lavender Face Mist
There has never been a doubt that lavender is one of the most soothing ingredients for skin. Whether you use it for a massage or unwind in aromatherapy, lavender comes with loads of benefits. Lavender's anti- inflammatory properties are good for reducing inflammation and redness. It helps in tightening sagging skin and smoothing out fine lines. Regular usage of lavender helps to also even your skin tone.
Use this as your go-to skin love! Spritz on this hydrosol to instantly pep up your skin and keep it hydrated. Head to the Soap Square website to buy this. Use the coupon code Pratibha10 to get a flat 10% off on all your purchases.
These are some natural products for blemishes available in India. These are some products I I could think of when we speak of reducing blemishes. If you know of a chemical-free product that should be in this list, do drop a comment.