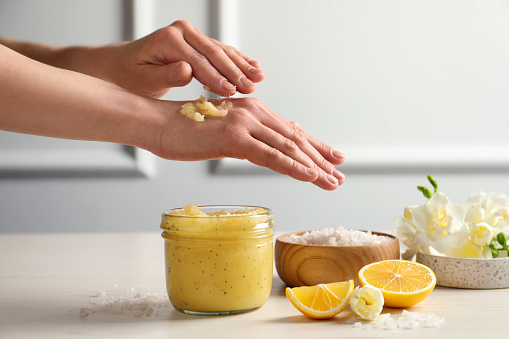 We're well aware of all the skincare products that you can apply on your skin and we know what each product does for us. But do you know about the ideal products for your body? Well, if you're like most of us, you most probably spend 99% of your time and energy on your face, and just the remaining for your poor body! However, our skin is our biggest organ, so we need to make sure that we're not ignoring it. And before we move to the list of best body scrub available in India, let us look at some benefits of a body scrub. 
Benefits of a body scrub
Getting rid of the dead skin cells on the surface has one major benefit – glowing skin. This is especially noticeable in people who have skin that has ben subject to sun damage, tanning or discoloration of any kind. Skin that has been exposed to the elements is likely to look rough, dull and aged. Using a body scrub can transform skin and make it glow with the health of new skin cells. It can even out one's complexion by dealing with patchiness. A body scrub doesn't just make your skin glow, it also makes it smoother to the touch. Skin that hasn't exfoliated has a rough, patchy texture to it, and it can also have a bumpiness, also called the strawberry effect. By using a body scrub that gets rid of the dead skin cells and any impurities, you're left behind with a smoother surface devoid of bumpiness. Using a body scrub with the right ingredients also promotes the effect of smooth, supple skin.
Here are just some of the benefits of using a body scrub:
Unclogs pores
Boosts circulation
Helps release toxins
Gets rid of dead skin cells
Makes waxing/hair removal easier
Imbibes skin with a beautiful glow
Why use a body scrub?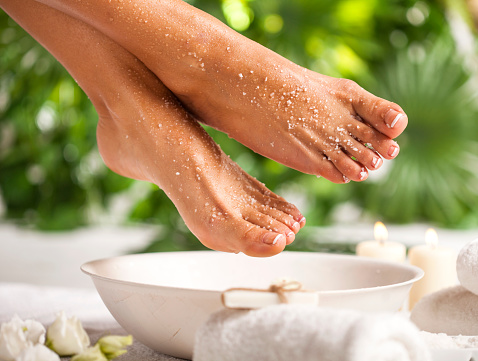 Most women dread shaving day for a multitude of reasons. There's the risk of razor burn, ingrown hairs and after all that trouble, you're still left with an unevenly shaven surface. Using a body scrub is a great way to prep your body for shaving, waxing or any other form of hair removal. It prevents razor bumps and provides a smoother surface to work on, which means that you get a closer shave. Body scrubs unclog pores, which means a lower risk of ingrown hairs or infections. Regular exfoliation can also reduce hair growth on the body.
Many people aren't aware of this, but using a body scrub also aids in detoxification of the body and is the perfect way to start a detox routine after a festival season. When you apply the scrub and massage it into your skin, it increases blood circulation and encourages lymphatic drainage. This helps release toxins and oxidative stress from the body.
The result is more oxygen and blood supply to the skin, giving it a healthy glow. Frequent scrubbing can also reduce sweating and body odor. Finally, simply using the scrub is one of the best ways of self-care, and will turn into your favorite part of the week. The whole act of scrubbing, massaging and then feeling the smooth, fresh skin after rinsing is immensely relaxing. Most body scrubs use essential oils that have aromatherapy benefits, that make the experience even more sensory and enjoyable. Many people also find that using a body scrub with a good massage reduces stress and improves sleep.
MUST READ: HOW TO EXFOLIATE YOUR BODY NATURALLY
Best Body Scrub in India
You don't have to search high and low for a body scrub. We have compiled a list of best body scrub in India that are perfect for many skin solutions. De-tan, even skin tone, promoting a supple skin and more.
Mamaearth | Ubtan Body Scrub with Turmeric and Saffron
Experience deeply exfoliated skin after you scrub away dead skin cells, and germs from the upper layer of the skin. The natural goodness of Turmeric & Walnut Beads reverse sun damage, giving you brighter, glowing, and healthy skin. Every day is a bright day with Saffron! It lightens dark spots and keeps your skin supple. Made using natural ingredients, the body scrub is free from Sulfates, Parabens, SLS, Petroleum, Artificial Preservatives & Colors.
Juicy Chemistry | 

Hazelnut, Coffee and Chocolate Scrub
This organic face and body scrub is made with mild exfoliants and emollient butters to gently scrub away the dead skin cells, even out skin texture and leave skin soft, supple and plump. It gently removes dead skin cells and smoothens the skin texture. It nourishes and softens the skin and preserves the skin's natural moisture. This is undoubtedly one of the best body scrub in India.  
Use the code Pratibha when you shop at Juicy Chemistry to get extra love and discount.
YBP Cosmetics | Vitamin C Mask
Purify your skin once a week for maximum health and beauty. Vitamin C Face Mask is a whole plant medicine created with Raw Herbs, Roots, Fruits, Flowers and Rare Minerals. It will help regenerate skin to reveal a brighter and more even complexion. You'll love how this mask allows enzymes and nutrients in serums and creams to travel into the skin and become locked in with moisturizer.
Pilgrim | Body Scrub & Polish for Exfoliation
 This perfect blend of premium ingredients (Volcanic Lava, Yugdugu & White Lotus) is just what you need for a luxurious body polishing & cleansing session. Its unique Korean formulation is non-drying (soap free) & has a moisturizing effect; which means it exfoliates, deep cleans, de tans and promotes youthful healthy skin but without disturbing your skin's natural oil balance. Pamper yourself (and your plus-one) with this luxurious scrub. From removing dead skin cells/impurities to tightening of pores, it absorbs excess oil, deep cleans pores and leaves your skin with freshness & radiant glow. Say Goodbye to dull, stressed skin and say hello to bright, youthful & vibrant skin we all desire.  
The Moms Co. | Natural Green Tea Body Scrub
Natural Green Tea Body Scrub by The Moms Co. gently exfoliates, nourishes and smoothens the skin. The tub is loaded with the goodness of Green Tea, Black Sand, 5 plant AHAs and Vitamin C. It helps protect the skin with anti-oxidant rich Green Tea while Apricot Seed powder gently exfoliates without aggravating the skin with its perfectly sized particles. Black Sand and 5 plant AHAs remove dirt, dust and excess oil while Vitamin C stimulates collagen synthesis and protects the skin from damage caused by pollution and UV rays.
mCaffeine | Coffee Body Scrub for Exfoliation and Tan Removal 
 An exfoliating scrub made exclusively to scrub away all the dead skin cells, blackheads, impurities, pollution, and unwanted tan | Perfectly sized pure coffee grains to work effectively on the softest as well as the roughest areas of skin. This coffee body scrub evenly polishes your skin to give you a smooth and irresistibly soft skin . Reveal a glowing, younger-looking healthy skin that is perfectly nourished. It unclogs your pores to let your skin breathe free.
The Nature's Co | Grapefruit Sugar Body Scrub
A trip to the tropics is closer than you think. This scrub has Brown Sugar which is a natural exfoliant and Grapefruit oils that tone skin and restore damaged and stressed tissues. As it removes excess water from the body, it helps treat cellulite. Moisturizing, smoothening and gently exfoliating dull surface cells to reveal clean, fresh and healthy looking skin. In the shower or bath, spread the scrub over your entire body. Rub into skin to exfoliate and then rinse well. It will leave you feeling smooth all over and the citrus fragrance of Grapefruit will linger on. Recommended usage – 1 to 2 times a week.
Bella Vita Organic | Exfoliate Coffee Scrub For Face & Body 
An exfoliating scrub made with natural ingredients to scrub away all the dead skin cells, blackheads, tan and unwanted impurities. This caffeine coffee body scrub polishes your skin to give you a smooth and irresistibly soft skin with glowing younger looking healthy skin. Perfect scrub for body and face tan removal. As a body scrub, it works on lightening dark neck, elbows, and knees along with removing tan and dry skin. It also removes cracked skin from feet and leaves the skin soft and supple.
Plum | BodyLovin' Vanilla Vibes Sugar Body Scrub 
Feed your skin all that it has been dreaming' of, one rub at a time! A sugar-based, soothing vanilla body scrub that exfoliates your skin gently, but effectively. A sweet blend of sugar & vanilla, infused with oodles of Kokum butter, Shea butter, Argan oil & Brazil nut oil — moisturizing & nourishing your skin! It leaves your skin feeling smooth & radiant with its rejuvenating & brightening formula. A texture so fine, it buffs away dry and dead skin revealing radiant skin underneath.
There you go, we have shared a list of best body scrub in India. Take your pick and let your skin enjoy the goodness of a relaxing exfoliation to reveal radiant skin. Which body scrub are you going to choose?