If there's one thing most of us won't step outside without, it's deodorant. Few things are as off-putting as bad breath and body odour, and the most carefully selected outfit will collapse with either of these.
When you live in a tropical climate like we have in India, sweating is something you can't avoid, even in winters! That's not really a bad thing – sweating is the body's way of regulating our temperature and it's completely natural. Sweating also helps to get rid of toxins, and makes your skin glow.
The problem isn't with sweat – it's with bacteria. When sweat comes in contact with bacteria on the surface of your skin, it gives out a specific odour. This becomes more pronounced in certain areas, like the underarms.
Since we'd like to spare others the ordeal of body odour, we reach out for that deodorant or antiperspirant that promises to keep us 'fresh' all day long. However, in the process, you may be doing yourself more harm than good. The good news is there are natural deos and let's look at some benefits of natural deodorants.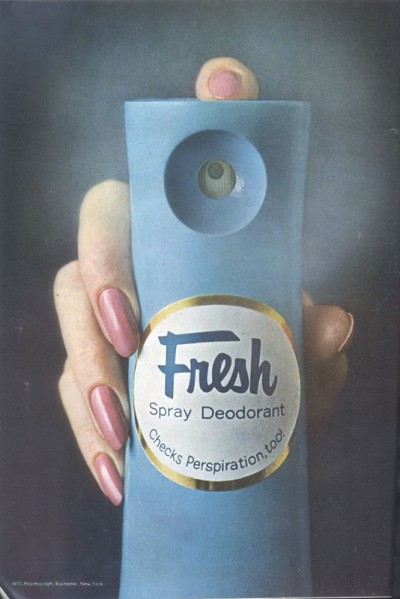 Most deodorants available now are antiperspirants too, which means they stop the sweat altogether. This might sound like a good idea, but it's not. You're messing with the body's natural processes, and this can backfire in the long run. What's worse is that this is being done with the help of toxic chemicals. Here is a look at some of the common ingredients found in commercial deodorants:
Aluminum – Clogs pores, linked to skin irritation and cancer
Triclosan – May cause muscle weakness, skin irritation
Silica – Linked to dryness, skin and lung irritation and cancer
Steareths – Can cause hormone disruption and skin irritation
Parabens – Can cause hormone disruption, reproductive disorders
Phthalates – Mimics estrogen, can cause infertility, birth defects or cancer
Triethanolamine (TEA) and diethanolamine (DEA) – Can affect liver and kidneys
Imagine spraying all that all over your body every single day of your life! Reading this will make you want to toss out your chemical deodorant, but the thought of body odour makes you hold on to it. Now, there is actually a solution that'll give you the best of both worlds – natural deodorants!
Natural deodorants are made from natural or organic ingredients, and don't contain any of the toxic ingredients listed above. Common ingredients in natural deodorants include:
Baking Soda – Used to neutralize odour and absorb moisture
Coconut Oil – Used as an antibacterial agent and moisturizer
Essential Oils – Each essential oil is used for a different purpose: tea tree oil for itchy skin, lavender for stress relief and many others have antibacterial properties that help with odour
Here is a look at why natural deodorants score over chemical ones. And we have also listed the benefits of natural deodorants for you.
5 Benefits of Natural Deodorants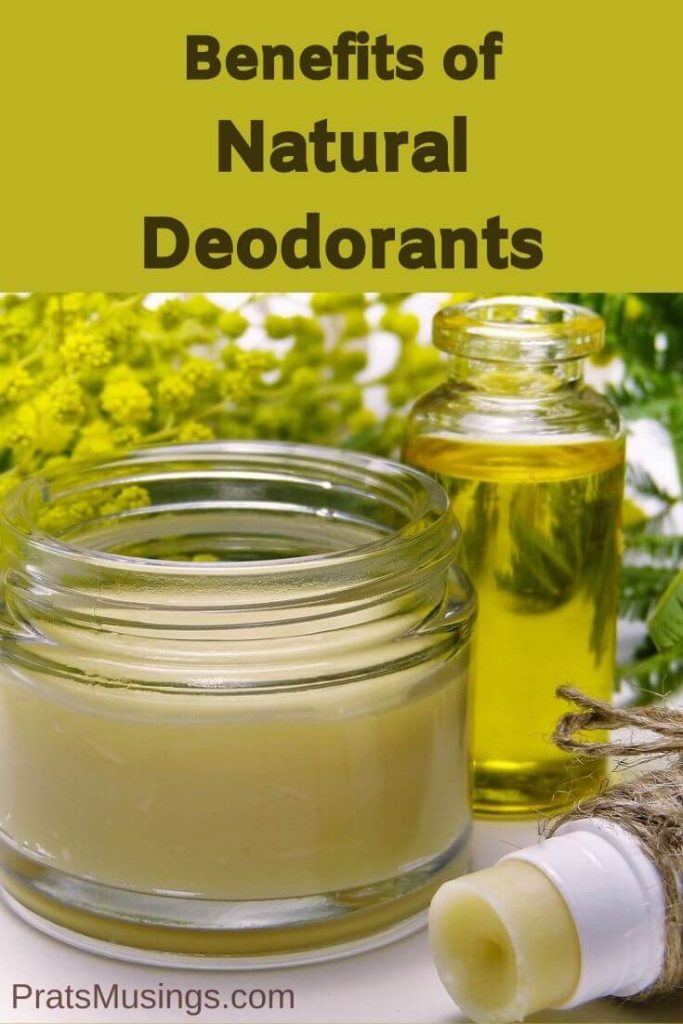 1. They don't cause cancer
If you look at the ingredient list, you'll find that many of the ingredients are linked with cancer, especially breast and ovarian cancer. Some studies also suggest a relationship between antiperspirants and breast cancer, although the results are not conclusive. The findings are based on the fact that most breast cancers occur in the upper quadrant, near the armpits, which is where deodorant is applied.
2. They support your body's natural processes
Sweating is a natural process of the body, and is supported by natural deodorants. Antiperspirants block this function by clogging the pores. This means that sweat builds up under the skin, toxins accumulate and it could actually make body odour smell worse. Clogged pores can also cause bumpy skin and irritation.
3. They provide added skin benefits
Besides the fact that natural deodorants don't contain toxic chemicals, they contain ingredients that could actually benefit your skin. Some ingredients like witch hazel can shrink pores. Some help in moisturizing skin and many contain essential oils with antibacterial properties which fight odour.
4. They prevent razor burn
Have you ever sprayed a deodorant on freshly shaved skin and recoiled in pain? Nothing of that sort will happen with natural deodorants as they contain ingredients that smoothen delicate underarm skin and prevent razor burn. Certain essential oils are known to soothe irritated skin and prevent infection.
5. They don't stain your clothes
Aluminium, the main ingredient in most antiperspirants, can stain clothes as they react with the fabric. Sweat stains can be real hard to get rid of too, as anyone who's tried knows! Natural deodorants contain plant based compounds that don't stain and keep clothes looking good as new.
8 Best Natural Deodorants in India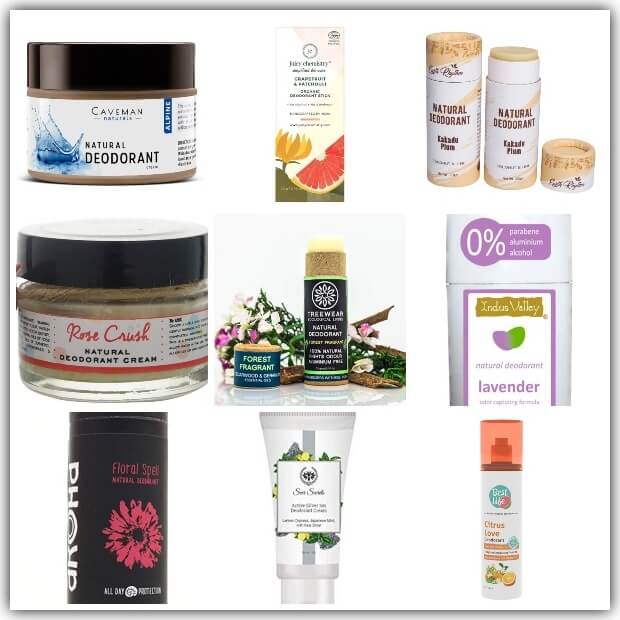 This deodorant contains shea butter, diatomaceous earth and coconut oil. It promises 24 hour freshness and is India's first Made Safe Certified 100% Natural Deodorant.
Available at Amazon India at Rs.625.00 for 50 g
This deodorant is available in a convenient stick format that's easy to apply. It contains arrowroot powder that maintains the pH balance of the underarm area. Certified organic.
Available at Amazon India at Rs.750.00 for 70 g
The Soapworks deodorant is also available in a stick format and is completely free from all kinds of toxic chemicals. Easy to apply and neutralizes body odour with a mild fragrance.
Available at Amazon India at Rs.705.00 for 50 g
This deodorant contains shea butter and cocoa butter making it a rich and moisturizing treat for your skin. Also contains an assortment of essential oils for a heavenly fragrance.
Available at Amazon India at Rs.570.00 for 40 g
This deodorant stick resembles a regular commercial deodorant but is completely free from aluminium and alcohol. Available in multiple variants and promises 12 hour long lasting effect.
Available at Amazon India at Rs.299.00 for 50 g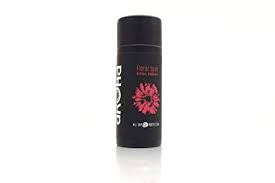 This deodorant contains mango butter and a host of essential oils that give a lovely floral fragrance. What's more, it comes packaged in biodegradable paper tubes made from recycled materials.
Available at Amazon India at Rs.267.00 for 50 g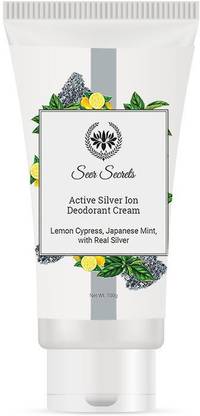 This deodorant cream from seer secrets comes in a tube, and promises not to stain clothes. Contains zinc and silver extracts that fight odour-causing bacteria.
Available at Amazon India at Rs.342.00 for 100 g
If you're looking for a spray deodorant, this is your best pick. With no gas and 100% liquid, this deodorant gives a fresh feeling for 6-8 hours without chemicals.
Available at Amazon India at Rs.399.00 for 150 ml
Before starting out with natural deodorants, it's recommended to do a full detox. First stop using chemical deodorants and let the body straighten out its normal processes. Drink lots of water and watch how your diet affects your odour. Wear breathable clothes and dry yourself completely after a shower. Since everyone's body chemistry is different, what works for one person may not work for another. This means that a bit of trial and error may be required before you land upon the ONE natural deodorant that works for your body. Always do a patch test before applying on sensitive areas.
Do you think there are more benefits of natural deodorants? Leave a comment and let me know. And if you want to be a part of #CauseAChatter by BlogChatter; register here.