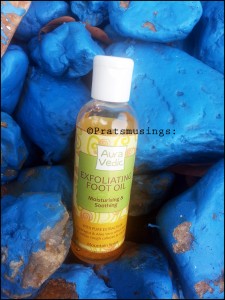 Being on my toes constantly and running after my boys takes its toll on my feet. My feet are constantly aching and no matter what I did the cracked heels just began to make their presence felt. Aching feet can be handled when you dip them in warm water and foot soaks, but cracked heels! They are pretty much here to stay if you begin to ignore them. And let me be honest, pedicures are luxury and I van just about manage about three pedicures in a year if I am superbly lucky! Let us not even talk about the last time I got a facial.
Getting a regime in place
Anyway, the cracked heels became quite a cause to panic and then began the phase when I went totally into looking after my feet and following a regime. I have my trusted foot soaks and the scrubs were not really an issue because I make them at home.  The only place where I was not really lucky was the foot creams because taking care of cracked heels is a task. After some misses, I found two products that have are now a part of my foot care regime. I have already introduced you to the  Hand and Foot Lotion by Rustic Art earlier, now let me introduce to you the  Exfoliating Foot Oil by Auravedic.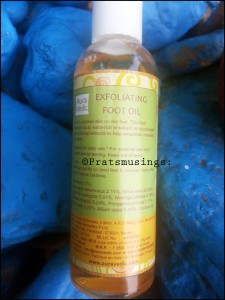 Priced at INR 250 for a 100 ml bottle, this one lasts a really long time. I have been using this one regularly for almost 6 months now and it is yet to get over! This product has a shelf life of 24 months.  
Not a very fancy packaging, as you can see it is a simple bottle with a flip open top and it is a travel friendly bottle.
The first fragrance that you sniff is cinnamon. No complaints here because this is undoubtedly one of my favourite spices because I do make a lot of scrubs using it as a base. And yes I love the fragrance, so even if it lingered, I would be more than happy. There are many uses for cinnamon right from an anti-acne mask to a scrub, and this was the first time that I saw cinnamon oil being used as a foot oil.
How do I use it?
I don't need much oil, maybe about quarter a teaspoon for each foot. Since it is an oil, it spreads easily and is also absorbed easily. I massage it on my feet and use this one overnight because it works best when it is left overnight. Why I prefer to use an oil at night is because it is relaxing since I indulge in a self massage for at least 3-4 minutes on each foot. It works wonders when you tuck in your feet inside the comforter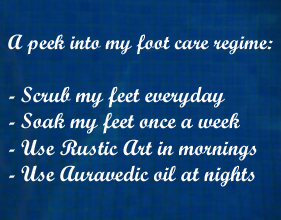 and feel the warmth of the oil absorbing and sending out those tiny tingling sensations that relax your tired feet.
Just don't overdo the oil application or else you will end up with oil stained sheets! Now if you clicked the pic on the left, you will see the complete list of ingredients and I had ordered this online so I did not have the complete list of ingredients. But what did catch my eye was the word preservatives right at the end of the list and I have written to Auravedic and will wait for them to elaborate on what the preservatives are.
Did it help?
With regular use, I have woken up to softer feet and the cracked heels are still there but the intensity has lessened. I'd say that if your feet are really rough use it at least twice a day and use it regularly for at least 6 months to get the right results.
So if you are looking at a product that will not only lessen the roughness and the cracked heels, but also make your feet smoother and awesome, then I recommend this product. And I would specially recommend it for the winters because the cinnamon oil is bound to keep your feet warm! I won't add this in the rebuy list till I get a mail on what the preservatives are! And if the preservatives don't bother you, do pick this one up if you want awesome feet.