If there is something that relaxes me after a tired day, it has to be a head massage. It helps me especially on the days I have my migraine. A head massage is known to relieve tension, relax the tired muscles and improve blood circulation. The other added benefit is that it makes your hair healthy. So, you should indulge in a head massage at least twice a week.
I like to warm the hair oil before I apply it. I prefer getting a head massage done by a professional masseur, but given the constraint of time, most of the times I give myself the head massage which is certainly not as relaxing as it should be!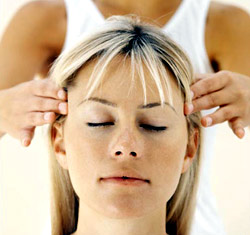 Benefits of  a head massage:
A head massage is known to relieve tension, relax the tired muscles and improve blood circulation
When done correctly a head massage increases the mobility of joints while also improving circulation. An improved blood circulation aids in lifting those energy levels!
Because it relaxes you, it gives you a general being pf calmness and peacefulness.
A head massage reaches all of the body's energy centers where tension accumulates. A massage helps release these tensions because you massage all the affected areas – the top of your head, base of your neck and shoulders,the forehead and temples.
As a kid, the only oils that were available for a massage were coconut and castor oils. Times have changed and there is a wide variety of hair oils that are available for a massage today. Adding fenugreek seeds to hot coconut oil and letting it cool to the room temperature was the only indulgence I had.
Tips for a head massage:
Warm the oil that you want to use for the massage. I warm it in my microwave for approximately 10 – 12 seconds.  You need to choose the oil according to your hair type. Edited: Warming the hair oil in a microwave is a wrong way. You should warm the oil either in a pan, or by placing in a glass bottle in a mug of hot water, etc but definitely not in a microwave. It kills all the herbal actives and goodness of the oil. – Thanks @Priti.
I pour the entire oil that I have warmed on top of my head and slowly massage it to spread it all over my head. Yes, I know I would have loved it if someone did this for me , but alas, I need to do this on my own. Move your fingers in a circular motionon your head and definitely this will improve hair growth relieving your tension as well.
Massage the oil for at least 5 minutes to let it soak in your hair completely. Leave it on for overnight if you can.
Wash off with a good shampoo and do not forget to condition your hair too. Indulge in a head massage at least twice a week for beautiful and healthy hair.
Tip: Allow the oils to soak in for at least 12 hours.  If you happen to be pressed for time, then post the application,  wrap your  head in a towel soaked in hot water for about 10 minutes and apply a hair mask. Leave the hair mask on for about 15 minutes and wash it with a shampoo and conditioner for  healthier hair.
Here is a video on how to give an Indian Head Massage
Next: review of the Herbal Hair Oil by Rustic Art