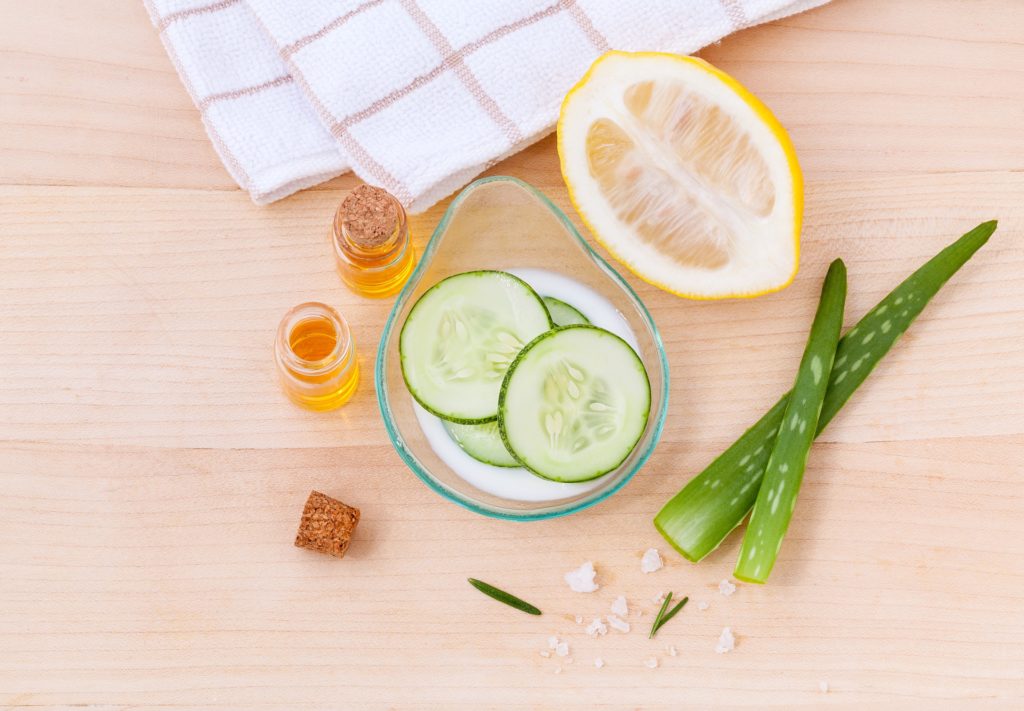 The festive season is here and everyone's in a good mood! But if you've been working extra-hard without enough rest, the fatigue is bound to show up on your skin. But don't worry; you're just in time to turn things around with some DIY face masks for glowing skin! So raid your kitchen to whip up these easy recipes that take very little time for gorgeous results!
5 DIY Face Masks for Glowing Skin this Festive Season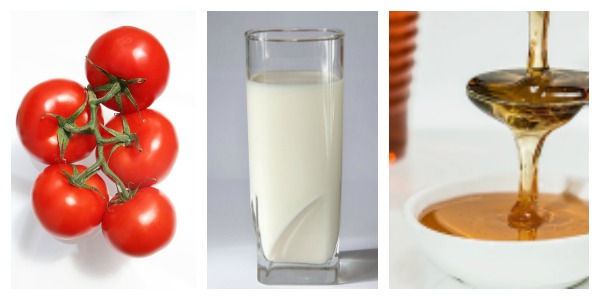 1. Tomato Overnight Face Mask
Tomatoes are a great astringent and help to even out the skin tone. Milk moisturizes skin and promotes new cell growth, creating a fresh glow. Honey's antioxidants acts as the mask's anti ageing element.
1/2 a small, ripe Tomato, pureed or squashed with a fork if very ripe
2 tbsp milk
Few drops of honey
Mix all the ingredients in a small bowl and apply all over your face. Cover your pillow and sheets with an old towel and go to bed, leaving the mask on overnight. Wash off with cold water in the morning for glowing, radiant skin. Repeat weekly or even twice a week for best results.
2. Coffee Coconut Oil Mask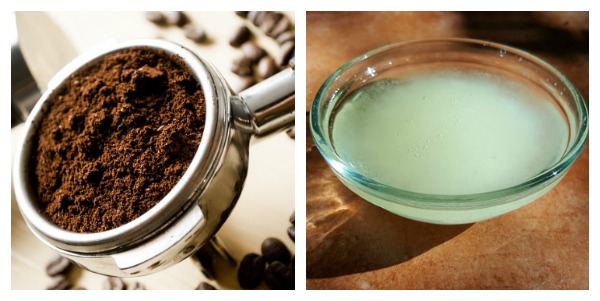 Coffee may seem like an unlikely ingredient for a face mask, but the truth is that it can perk up not just for your foggy brain but your facial skin as well! Ground coffee beans have exfoliating properties and it removes dead skin cells, revealing smoother skin. The caffeine acts as a diuretic and can remove puffiness in the face.
1/2 tsp ground coffee
1 tsp coconut oil
Mix the coffee and coconut oil thoroughly. Apply to the face, massaging gently all over in circular motions. Leave it on for about half an hour (or more) and then wash off completely. Repeat twice or thrice a week.
3. Strawberry Cream Mask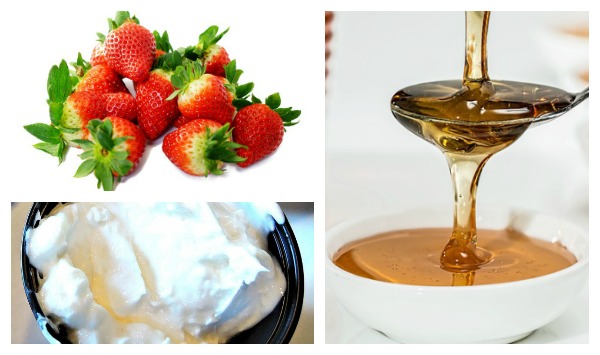 This mask contains strawberries, cream and honey and probably sounds good enough to eat! Strawberries are rich in Vitamin C and Alpha Hydroxy Acids (AHAs) that fight free radicals that cause ageing. It also contains salicyilc acid that works on dark spots and lightens scars The cream acts as a moisturizer and rehydrates skin, while the honey contains anti oxidants to fight ageing.
2 large or 3 small strawberries, pureed or smashed
1 tbsp thick cream
1 tsp honey
Mix together all the ingredients in a small bowl. Spread the mixture all over your face and leave for 30 minutes, till dry. Wash off with lukewarm water, finishing with a final splash of cold water.
4. Turmeric Avocado Mask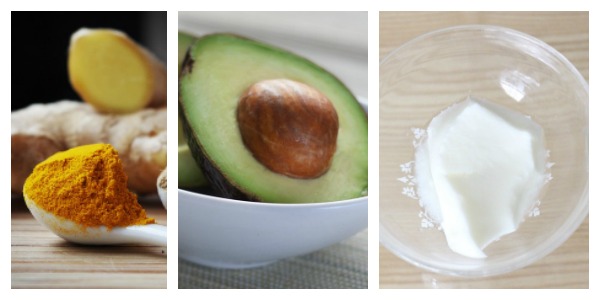 This mask contains two super-skin ingredients – turmeric and avocado. The golden spice turmeric can truly give your face a golden glow, since it contains Vitamin C to make skin firm and magnesium for radiance. Avocados are chock full of Vitamin E and healthy fats, which are great for healthy, supple skin. The yogurt helps to moisturize skin as well as fight oiliness and acne.
1 small ripe avocado
1 tsp yogurt
1/4 tsp turmeric powder
Mash the flesh of the avocado and reserve one tablespoon for the mask. Blend it with the yogurt and turmeric to get a smooth paste. Spread it all over your face and leave it on for 10 minutes. Wash off with cold water.
5. Papaya Lightening Mask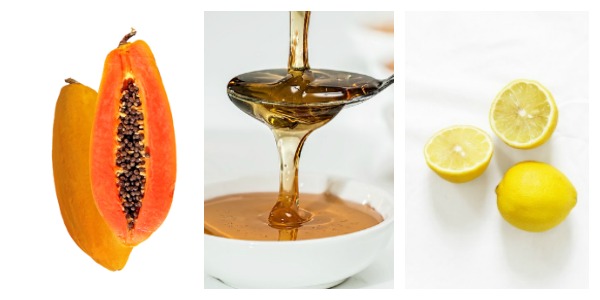 This mask gets rid of all that unwanted tan and restores your skin to its previous glow! Papayas contain papain, an enzyme that exfoliates and decreases pigmentation. They also contain vitamins and AHAs which rejuvenate skin by smoothening wrinkles and moisturizing dry skin.
1/4 cup ripe Papaya
1 tbsp honey
a few drops of lemon juice
Blend the papaya chunks to a puree. Add in the honey and lemon juice and mix thoroughly. Apply all over face and leave for 5-10 minutes. Wash off with cold water This might leave a tingling sensation, so if you have sensitive skin, a patch test is recommended.
For any face mask, be sure to avoid the lip and eye area, even the eyebrows. Some masks' lightening ingredients may end up lightening your eyebrows too! Don't forget the neck and decolletage, so that your glowing face doesn't stand out in an odd way. With regular application of these masks accompanied by a healthy diet, lots of water and enough sleep, you'll soon be glowing throughout this festive season!
Follow Me On…
FACEBOOK | TWITTER | PINTEREST |elephant journal |INSTAGRAM
*All of my reviews are based on my own personal experiences with the brand/products. If it is a sponsored post, it is indicated. Most of the brands and products reviewed are what I have tried and tested and truly recommend! All Photographs are (C) Pratibha unless stated otherwise.*