"Let us keep Christmas beautiful without a thought of greed."
As soon as we see December approaching, our first thoughts are about the tree and decorating it. But right after that another thought strikes – gifts!
Of course, the image of the Christmas tree isn't complete without a pile of gifts underneath it, and the spirit of Christmas is incomplete without seeing the faces of our loved ones as they open their gifts. But at the same time, let's not forget that we also need to gift our planet something – a green Christmas!
15 Eco Friendly Christmas Gifts Under Rs.1000/-
So here are 15 eco friendly Christmas gifts to give your love ones this season – all of which are well within budget and which won't hurt the environment. So everyone can whole heartedly celebrate a very Merry Christmas!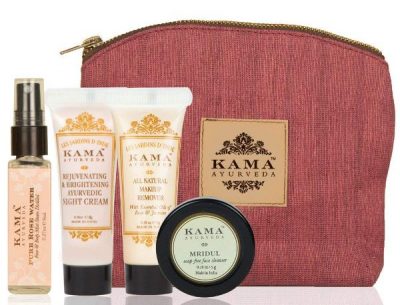 A skin care kit that contains everything you need for clear, fresh skin – now that's a great gift! And when it's made of 100% natural ingredients, it's so much better. This kit contains all the essentials – make up remover, night cream, rose water and cleanser. Costs Rs. 525.00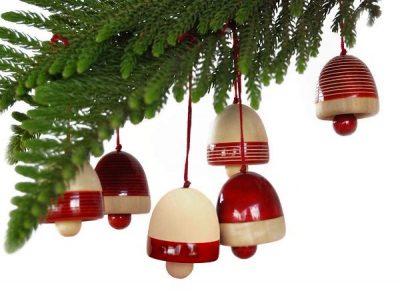 These wooden bells are so cute, and they're good for the environment too! They're made with fair trade raw materials, colored using natural dyes and finished with a natural lac coating. Buying these means you also support local artisans. Costs Rs. 510.00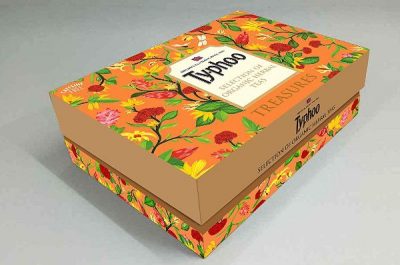 If you know a tea-lover, then this is the best gift you can get them! The gift pack contains a range of caffeine-free herbal teas – night time, slim tea, peppermint and root remedy. The teas are organic certified, so all you get is absolute goodness. Costs Rs. 650.00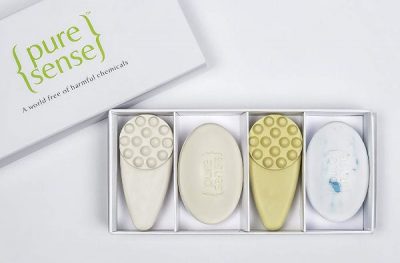 Soaps these days are ridden with chemicals and artificial fragrances, which is why a set of natural soaps is perfect this season! This set contains soaps made from organic extracts, and are free from sulphates, parabens, formaldehyde and mineral oil, making it free from carcinogens. Costs Rs. 931.00. You can look up more products from PureSense here. 
[amazon_link asins='B074C6F13K,B00NXXN10M,B074ZN26J3′ template='ProductCarousel' store='pratsm-21′ marketplace='IN' link_id='b9bda964-f3cd-11e8-b2f7-cd2c0e292a56′]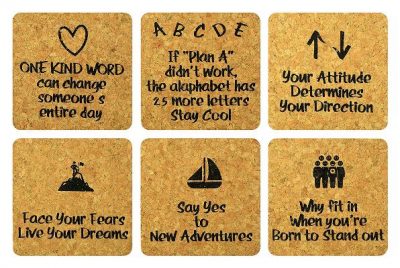 People have at least a cup of tea or coffee every day, which means they'll need a coaster everyday. Make their tea time fun and inspiring with these cork coasters, with different quotes on each one of them! Costs Rs. 600.00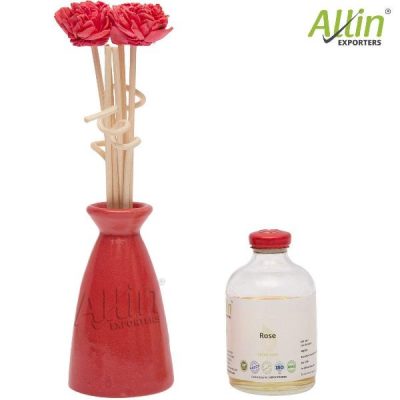 Have you heard of the phrase 'It smells like Christmas'? Well, you can gift that smell with a reed diffuser set that contains all-natural essential oils, rattan reed sticks and a ceramic diffuser. Costs Rs. 458.00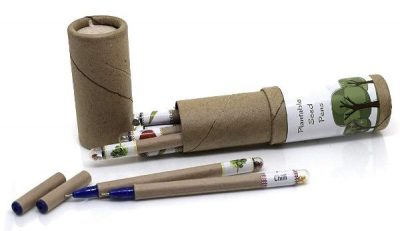 There's no better gift than one that saves the planet – with trees! These eco friendly pens do double duty. For one, they are made from recycled paper, and secondly, they have vegetable seeds that can be planted! Costs Rs. 395.00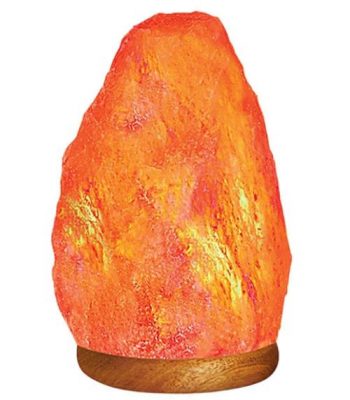 Himalayan salt lamps are getting increasingly popular, making this a trendy gift idea! These lamps are carved from natural rock salt from the Himalayas, giving it its characteristic pink color. The lamps are said to promote good sleep and purifies the air at the same time. Costs Rs. 975.00
[amazon_link asins='B07D1NWXYC,B075N9G54K,B071FMMWQX' template='ProductCarousel' store='pratsm-21′ marketplace='IN' link_id='e2a94791-f3cd-11e8-90d9-0f6355d9e0cc']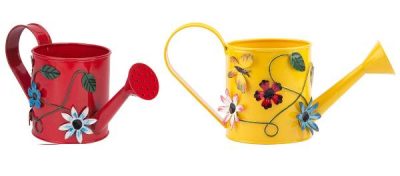 If one of your friend's New Year resolutions is to grow her own herbs and veggies, encourage her with these watering cans that aren't just strong and useful, but look real pretty too! The cans are made of iron and are rust resistant. Costs Rs. 850.00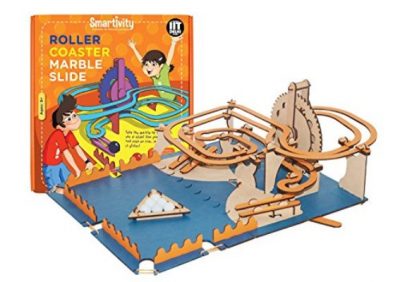 Rather than getting kids the same old battery operated thingamajig, get them a cool activity kit that's both fun and educational. This activity set is made of recycled wood, and helps kids understand basic concepts they learn at school. Costs Rs. 849.00. I love these cool toys from Smartivity! You can check more here.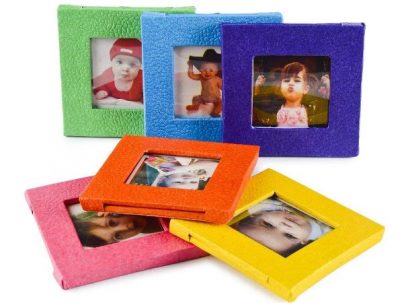 Let those beautiful smiles and holiday memories be displayed proudly with these colorful magnetic photo frames! The frames are made of eco-friendly ecoleatheretee, which is made from cotton and looks like leather. Costs Rs. 495.00
[amazon_link asins='B075NMP2VD,B01N2UPTQI,B00VV38GNI' template='ProductCarousel' store='pratsm-21′ marketplace='IN' link_id='0f7ef0be-f3ce-11e8-a61c-e5f454cdcf4f']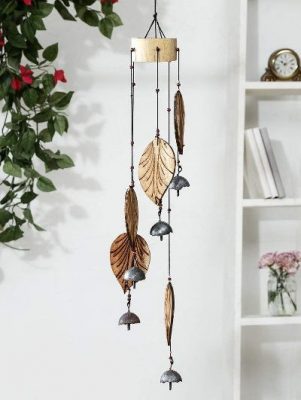 It's lovely to hear the tinkle of wind chimes when a breeze comes through, and when the chimes are made of eco friendly materials, it increases the enjoyment! These chimes are a tribal craft from Chattisgarh. Costs Rs. 799.00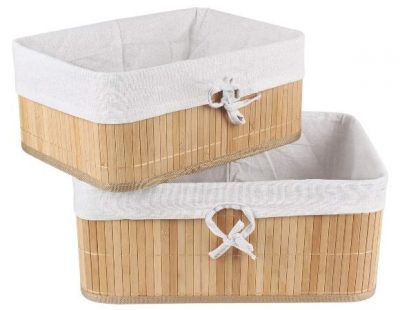 House-proud or organizing freak? Whatever describes your friend, they're sure to love these bamboo baskets! Made from premium natural bamboo with a washable cotton lining, these baskets are foldable too! Costs Rs. 899.00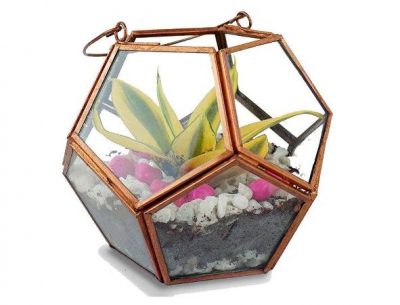 Terrariums are a great way to introduce some greenery indoors without investing in a large house plant. This terrarium has a contemporary feel with its geometric shape and glass sides. Perfect for small plants or succulents. Costs Rs. 795.00
[amazon_link asins='B079S71JWY,B077GX7W5W,B076J7XQXM' template='ProductCarousel' store='pratsm-21′ marketplace='IN' link_id='400cc006-f3ce-11e8-87a5-d18cc2b3fcf9′]
Don't forget the littlest people on your gift list! Gift them hours of open ended play with these fabric blocks, made of good quality, non-toxic cloth. It also has a built in rattle and is safe for the smallest babies. Costs Rs. 800.00
There you go! A fabulous, curated list of Eco Friendly Christmas Gifts that are well within your budget! What are you gifting this festive season?