Let's picture a certain scenario: you need to go out somewhere and you spend an hour styling your hair with tools and creams and sprays, and when you're satisfied with how you look, you pick up your bag and mask and head out. Within five minutes, those very strands which you so loving styled have decided to rebel, and all your efforts have gone down the drain.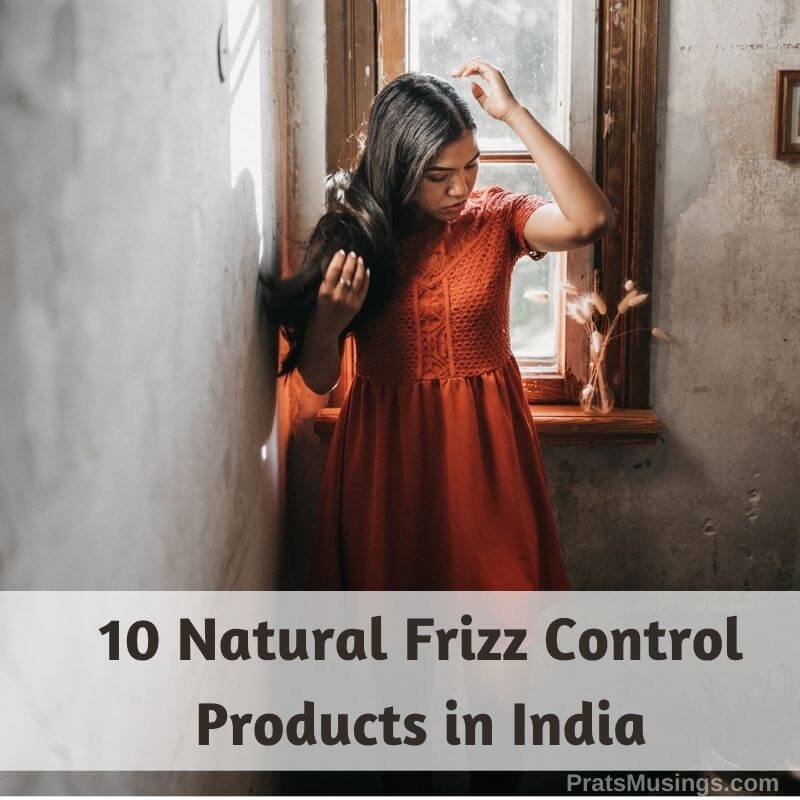 If this sounds like a familiar scenario to you, welcome to the frizz queens club! Frizz is a problem that seems impossible to beat, especially in a humid country like India, where most of the year sees high humidity except the winter months.
Wikipedia defines frizz like this: "hair that does not align with the surrounding hairs, but stands up or curls independently, creating a fuzzy or irregular texture." Anyone with frizz knows that this definition hits the nail on the head! That's what frizz does to us – makes us look fuzzy and irregular!
There are many causes for frizz, the main one being humidity, when dry hair strands try to absorb the moisture from the hair, causing them to swell. So the solution here is obvious – give your hair enough moisture so that it doesn't have to beg for it, that to standing up!
To fix this solution, we've rounded up some of the best natural frizz control products in India. The best part is that they are free from icky stuff like parabens and phthalates, making sure that your frizz problem is solved without leaving you with any unpleasant side effects.
10 Natural Frizz Control Products in India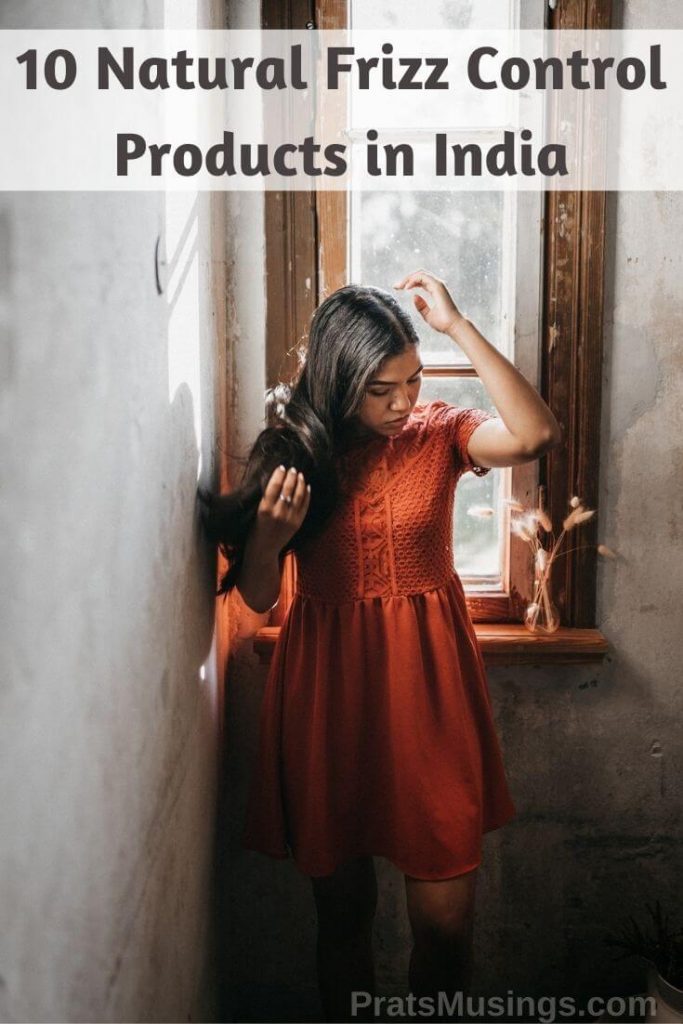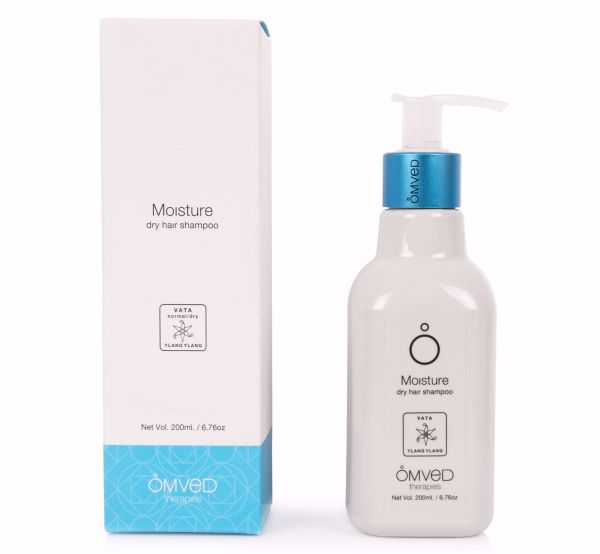 As we know, dry hair is the reason hair tends to frizz up, and the biggest reason for hair drying out is because of the ingredients in our shampoos. That's why this shampoo from Omved specifically targets dry hair, by providing it with all the hydration it needs while cleansing it.
The shampoo contains a special formulation with plant proteins from Ylang Ylang oil, Juniper Berry oil and Patchouli oil as well as pro-Vitamin B5 complex which is designed to provide intense hydration along the entire hair shaft, so your hair needn't beg for moisture from the air around it!
The Moisture Dry Hair Shampoo is available at Rs 1,149.00 for 200 ml.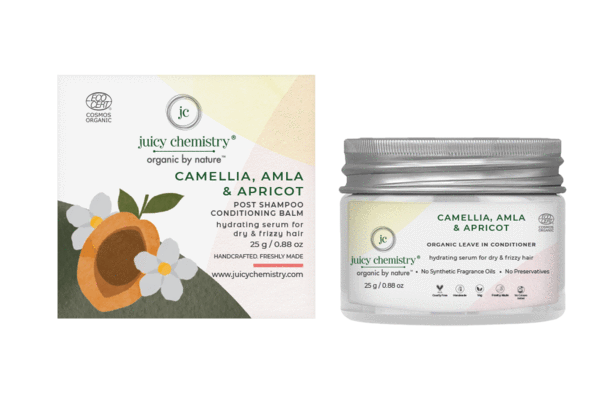 Sometimes a plain conditioner is just not enough, especially during times of intense humidity, like the monsoons. That's why you need a leave in conditioner, like this one from Juicy Chemistry. A leave in conditioner ensures the moisture stays locked in your hair, whatever the weather is like outside.
This product contains amla, apricot and sweet almond oil, all incredibly nourishing and moisturizing ingredients. The use of this is similar to your regular conditioner, only it is not washed out. After shampooing and if you like, conditioning, pat dry the hair and apply the leave in conditioner along the strands, distributing with a wide toothed comb.
The Juicy Chemistry Leave in Conditioner is available at Rs 413.00 for 25 g. 
P.S : Use code Pratibha for a discount.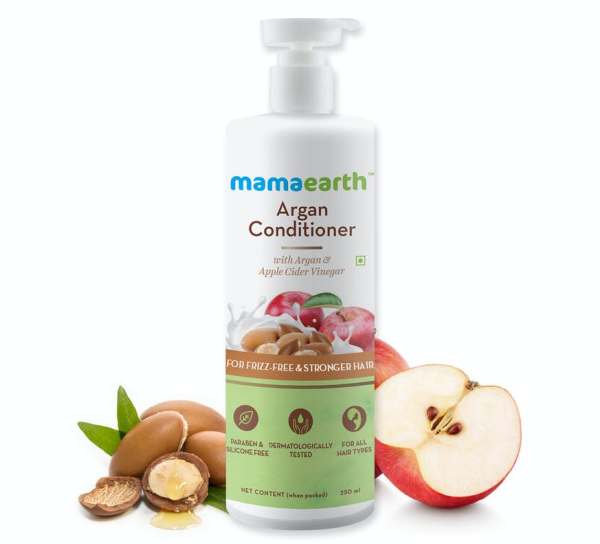 If there's one ingredient every DIY beauty influencer swears by, it's ACV, or apple cider vinegar. With numerous benefits for skin, hair and overall health, this is one ingredient you simply can't do without. Apple cider vinegar restores the pH balance of the scalp, preventing dandruff and also sealing in the cuticle of the hair shaft.
The result is shiny hair that's completely frizz-free. This conditioner by Mamaearth combines ACV along with some other grat ingredients like argan oil and almond oil, providing hair with some much needed Vitamin E and loads of moisture.
The Mamaearth Argan Conditioner for Frizz-free Hair is available at Rs 349 for 250 ml.
Pro Top: Use the Mamaearth Argan Hair Mask once a week to tame your frizz further.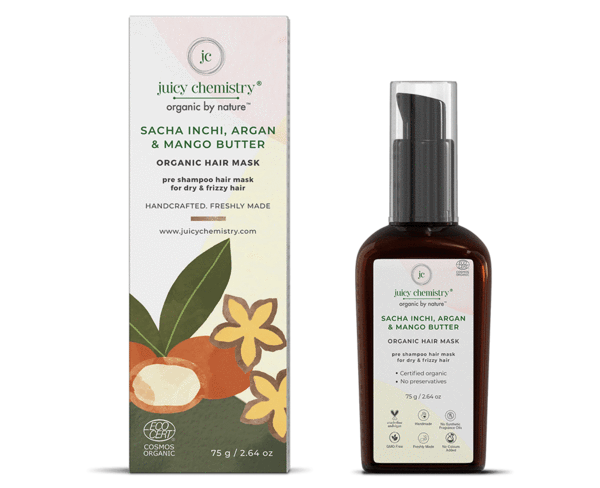 Frizz is often a sign of the hair asking for some TLC, and if you give it what it needs, it'll reward you! Juicy Chemistry has an organic hair mask that's just the tender loving care that dry and damaged hair needs, plumping it up with essential fats and sealing the cuticle so you have soft, shiny hair.
The organic hair mask contains coconut butter, argan oil and a special ingredient called Sacha Inchi, which acts as an emollient. All these ensure that moisture stays locked in the hair strands and frizz is kept under control. This mask also helps cleanse the scalp and remove product buildup.
The Juicy Chemistry Organic Hair Mask for Frizzy Hair is available at Rs 675 for 75 g.
Must Read: Best Shampoo Bars in India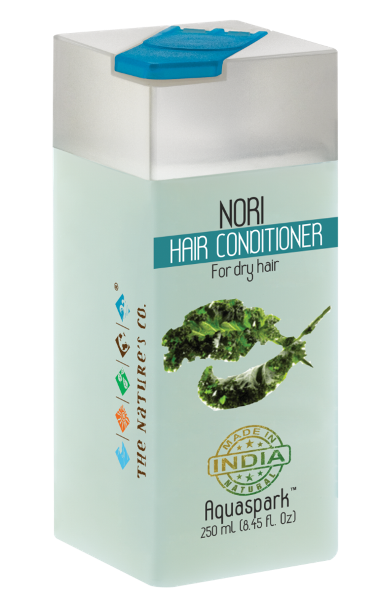 If you're in the mood to try something exotic to tame that frizz, check out this Nori hair conditioner from The Nature's Co. Nori is a kind of Japanese red algae. Nori has special properties that help condition limp and dry hair. What's more, the sea minerals in Nori also improve hair health by nourishing it with special nutrients.
Nori is edible, making it a safe alternative to chemical conditioners full of toxic ingredients. Juicy Chemistry's products are known to be thoroughly tested, so you get only the benefits of the ingredients and not the adverse effects from toxins.
The Nature's Co Nori Hair Conditioner is available at Rs 745 for 250 ml.
You'll notice that most of the anti-frizz products available contain argan oil. This oil from Morocco has recently sprung into the spotlight, and for all the right reasons. Argan oil is practically a super ingredient when it comes to hair care, particularly for dry and damaged hair.
Argan oil isn't the only oil in this product from Satliva. It also contains Hemp Seed Oil, Castor Oil and Rosemary Essential Oil, making it a potent solution that's ideal to tackle dryness and frizz, while also infusing your roots with some nourishment.
The Satliva Hemp with Argan Hair Oil is available at Rs 1,299.00 for 100 ml.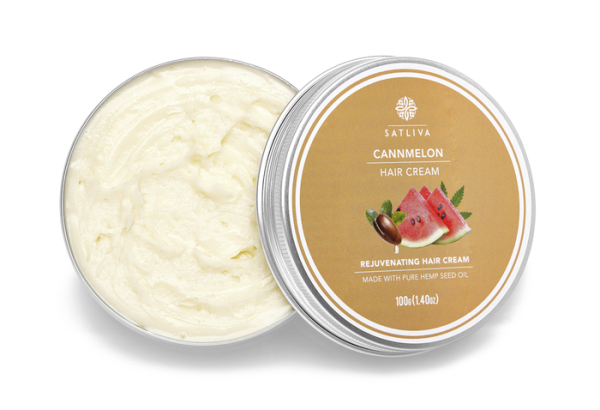 If you're wondering about what a 'Cannmelon' is, it's just a combination of the two star ingredients of this hair cream – Candelilla Wax and watermelon seed oil, which are just two of the many amazing ingredients. Just like a body butter gives your skin some extra hydration and protects from dryness, a hair cream gives your strands a little extra moisture to prevent frizz.
This cream also contains argan oil, lime oil along with hemp seed oil and neroli essential oil. In spite of so many oils, the hair cream is quite light and sits easy even when applied to the scalp. It also strengthens hair and prevents breakage.
The Satliva Cannmelon Hair Cream is available at Rs 1,450.00 for 100 g.
Must Read: Best Hair oils in India
When you think of orange and cinnamon, you probably think of autumn smells or those simmers people put on the stove to make their home smell good naturally. However, few would consider these two as effective ingredients in the fight against frizz and dryness.
However, Biobloom has found that they work together, which is why we now have this anti-frizz conditioner. Vitamin C is all the rage these days in skincare, but it's just as effective in haircare. Orange helps condition the hair and also prevents dandruff and extra greasiness. Cinnamon helps strengthen hair and keeps it moisturized all day long.
The Biobloom Anti Frizz Hair Conditioner is available at Rs 699.00 for 200 ml.
Moroccan Rhassoul clay is the moisturizer and softener for hair. It reduces dryness in the scalp & hair while also removing toxins and product buildup. It improve hair's elasticity and unblocks your scalp's pores.
Rosemary oil has been used for centuries to not only stimulate hair growth but also delay graying. It moisturizes a dry scalp, and prevents flaking and dandruff. It repairs damage while removing dirt and grime that may keep the hair weighed down.
The Moroccan Rhassoul Clay Scalp Mask from Soap Square is available at Rs 500.00 for a 200 mg Bottle.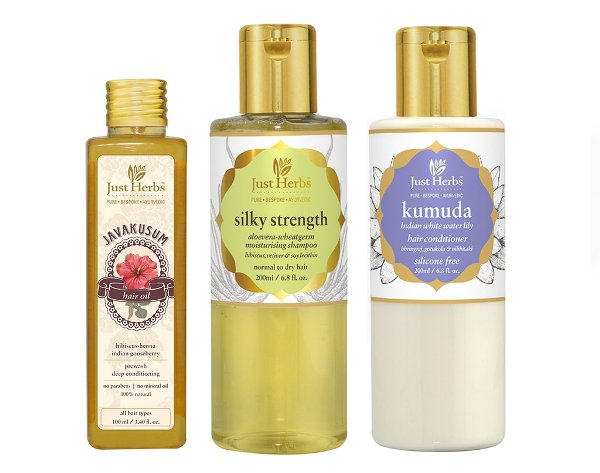 If you've decided to go all the way in fighting frizz, Just Herbs has just the thing for you! Check out their Ayurvedic hair care kit for frizzy hair that includes everything you need to keep your hair moisturized and smooth – a hair oil, a shampoo and conditioner.
The hair oil is a great pre-wash conditioner and contains hair super-foods like hibiscus, amla and indigo. The shampoo cleanses the scalp and hair without drying it out. The conditioner is free from silicones and smoothens out the hair shaft without causing any kind of buildup or heaviness.
The Just Herbs Ayurvedic Frizzy or Dry Hair Kit is available at Rs 1,815.00 for 100 ml of hair oil, 200 ml of shampoo and 200 ml of conditioner.