Ok, no bragging here , but the last week has been one of the best in my life! There are lots of reasons that made the world go round and most importantly people made things happen!
For those who have seen my earlier look of the blog and this look will know the change that's taken place and I can't stop admiring the awesome work that  Swapna, the mompreneur behind MomBizCafe has put into it. The blog was up and running in less than 2 days. And the blog looks simply awesome!  Not to mention that I have a new found confidence and the plunge has made me inch a little closer to the goal I have for myself.
And she has also been absolutely wonderful to have a coupon code exclusively for the readers of my blog for the services that she offers. So type in Prats10 in the subject line when you mail her to get a flat 10% off !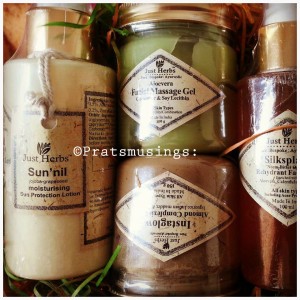 And while I reeling with happiness with the new look and feel, the joys started multiplying when I started receiving  loads of prizes that I won in contests! Look.Look. Look!
The haul from Just Herbs was the first to arrive.  I had won this over a month ago in a contest run by Prevention India and the products look interesting. I don't quite use a sunscreen, but the face-wash, massage cream and the pack look quite awesome! A definite try and the reviews will be up soon! The better half frowned thinking I was shopping secretly without him knowing about it.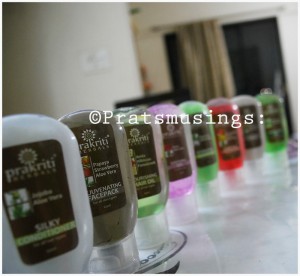 Prakriti Herbals Hampers were the next to arrive,  I have used their stiff earlier and they are absolutely awesome. I am a big fan of the wheat-germ scrub and the freshlime body wash. The scrub is a must for winters! I bought the haircare kit and the skincare kit has been sent for a review. And the haul consists of a cucumber and a rose aloe gel, a nourishing hair oil, a shampoo and conditioner, a face wash, a scrub, a face pack and two cute strawberry soaps. Quite a haul, ain't it?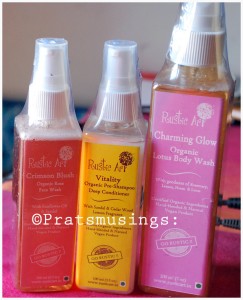 And then came a package I was sure I never ordered. While the better half was dead sure that I was shopping secretly without informing him, I got busy checking the contents of the package.  It was the latest range of skin and hair care products from another very favourite brand, Rustic Art. The covering letter stated that it was the hamper for a contest I had participated recently I shot off a mail to them certain that I had not and that it was a mistake. Well, I had particiapted in a contest two months ago and I had completely forgotten about it! So that is what I got from Rustic Art.
The pre-shampoo deep conditioner, a body wash and a face wash. I am totally in love with the pre-shampoo deep conditioner and I can't tell you how much my hair loves it too!
A work from home mom, a blogger, a social media enthusiast - that pretty much sums up what I do. I quit the corporate world to be with my twin boys and I don't intend getting back there! When not rooting for the environment with my eco blog, I make magic with my social media skills!
The boys, coffee, books, music and ME TIME are my modes of relaxation!