The Indiblogeshwari's know how to keep the group on the toes and they came up with this fantastic idea of secret elves on a mission to review a member's blog. I thought it was the perfect way to end the year and make someone happy.  And a bit of abracadabra was done and I was given this blog to review.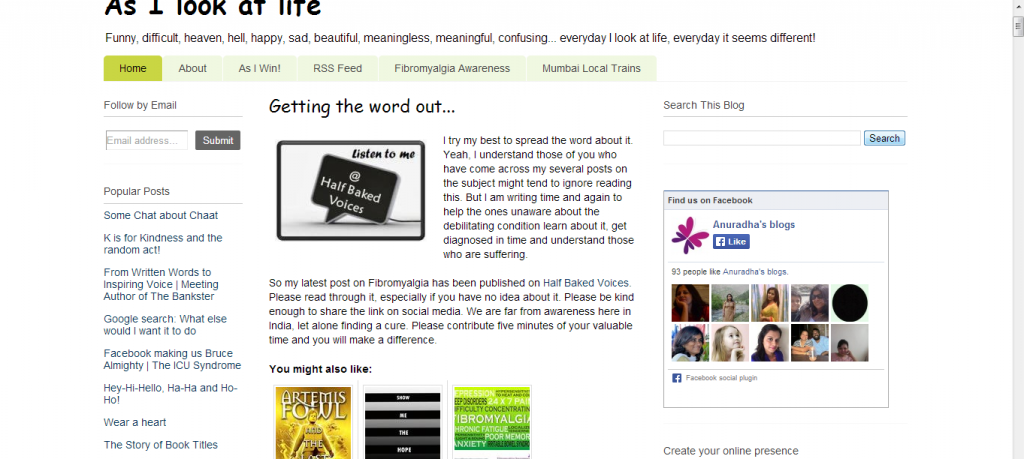 Funny, difficult, heaven, hell, happy, sad, beautiful, meaningless, meaningful, confusing…
everyday I look at life, everyday it seems different!
This is what the tag says on the blog and when you read through the blog you come across a variety of writing styles.
So I loved being the secret elf and review the blog that turned out to be a mixed bag of things. Short stories ( I love short stories!!), snippets of information, random musings, book reviews, awareness posts and more.
This was an interesting task because I had never seen the blog earlier and nor did I know the person who was behind the blog.  I spent a good day and a half going through the posts. This post got me superbly nostalgic and you have no idea how much I am craving to eat a South Indian Meal on a banana leaf! It took me back to memories of numerous weddings I had attended and eaten a meal on the banana leaf. I am now currently scouting places in Pune where you can get the same! Anuradha, the lady behind the blog has a lovely writing style. I loved her fictions and random writings.The blog is informative and easy to read. There is no extra information or posts written just to cram the blog. Each post has a thought behind it and you can understand it. 
If I had to give a feedback, it would be to: 
have a better template that gave the blog an organized look.
reduce the number of posts on the main page
read more option on some posts
That is all!!
Want to know more? Read her blog here.Follow her on FB here. 
A work from home mom, a blogger, a social media enthusiast - that pretty much sums up what I do. I quit the corporate world to be with my twin boys and I don't intend getting back there! When not rooting for the environment with my eco blog, I make magic with my social media skills!
The boys, coffee, books, music and ME TIME are my modes of relaxation!